Florida murder-suicide shooting teens 'ran away together'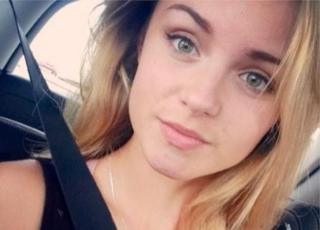 A teenage couple shot dead a US police officer and killed themselves after they were stopped from seeing each other, an investigation has found.
British 17-year-old Alex Hollinghurst had run away from home in Florida with her 18-year-old American boyfriend Brandon Goode.
Police cannot determine whether Officer Robert German was shot by Mr Goode or Miss Hollinghurst, who previously lived in Derbyshire and Greater Manchester.
All three were shot in the head.
Some of Miss Hollinghurst's relatives had believed she was murdered by Mr Goode.
But the investigation found Miss Hollinghurst, whose family had emigrated to the US six years ago, killed herself about 45 seconds after her boyfriend shot himself.
Shop surveillance video captured the couple sitting on a kerb as Officer Goode approached them in Windermere, Florida, on 22 March.
The final investigative report into the officer's death states: "As he's stepping out of the vehicle, Walgreens video surveillance show [sic] Brandon rising to his feet first, followed by Alexandria.
"At that moment, Officer German is shot in the left side of his head.
"Due to distance and lighting, from the Walgreens' video surveillance camera it is difficult to see who actually shot Officer German at that moment."
The couple fled and their bodies were later found "in a clump of shrubs, trees and bushes".
The teenagers had previously lived together with Mr Goode's mother in Davenport, Florida.
But after they were arrested for possessing alcohol and a small amount of cannabis on 24 February, Miss Hollinghurst's parents forbade her seeing Mr Goode.
The report said she became "frustrated and upset, due to the separation".
In a letter to his girlfriend, Mr Goode wrote about a plan to "steal a boat and sail down to Panama".
"We could live on the beach just me and you forever in our small little cozy house," he said.
In a letter signed "Mrs Goode", Alex wrote: "Living with you is going to be bliss."
Police started searching for the couple when Mr Goode left home and a suicide letter was found.
Miss Hollinghurst also left a letter, in which she expressed anger towards her mother and a desire to get away from home.
Police said both of their deaths were suicides, while Officer German's was first-degree murder.