Jet2 passengers escaped along wing after emergency landing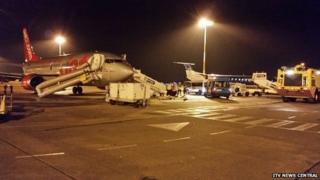 Passengers on a plane that made an emergency landing have described how they forced open a door and jumped from the wing.
Jet2 said the flight, which landed at East Midlands Airport at 21:10 BST on Wednesday, had a "minor electrical fault".
A passenger on the Ibiza flight said there was a "strong... burning smell".
Another man said cabin crew lost control on the ground, which led to panic and people trying to escape.
On its website, the Air Accidents Investigation Bureau (AAIB) said it sent a team "to investigate a serious incident to a commercial airliner that occurred at East Midlands Airport", on Wednesday evening.
An airport spokesman said three other flights were diverted to Birmingham and full safety procedures were followed. The Boeing 737 jet can carry up to 150 passengers.
Kyle Charles, from Strelley Village, Nottinghamshire, said: "We circled above the airport and tried but failed to land.
"We landed on the second attempt. When we landed it turned into sheer carnage."
Mr Charles said one member of the cabin crew kept screaming over and over: "Get off the plane everybody now!"
He said the crew opened the main doors at the back and front of the plane, where the inflatable chutes drop down, but not the ones over the wings.
His friend Rob forced one of the doors open, ran to the end of the wing and jumped down on to the tarmac.
He then helped other passengers who were running along the wings down on to the runway.
Malcolm Yates, who was also on the flight, said the intercom failed and there was no communication between cabin staff and passengers in the air.
"We soon saw the fire engines lined up," he said.
"You could smell the burning, a strong electrical burning smell. That's when people started to panic, screaming 'get the kids off!'
"The stewardess kicked the door down up the front. I remember her taking a great big lunge for it to smash it down."
A Jet2 spokesperson said: "Following a safe arrival at East Midlands Airport of flight LS644 we decided to disembark passengers as quickly as possible as a precautionary safety measure because a minor electrical problem led to some smoke in the cabin.
"All passengers were looked after by our airport team and a full investigation is now under way. The safety of our passengers is of paramount importance."