William Connors, forced labour boss, told to pay £1.7m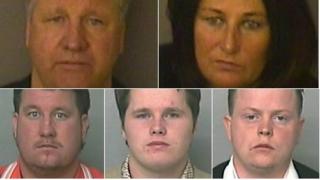 The head of a traveller family who forced homeless men and drug addicts to work as labourers for as little as £5 a day has been ordered to pay more than £1.7m - or face six more years in jail.
William Connors was jailed for six and a half years in 2012 after a trial that heard he lived a life of luxury while exploiting the men he called "dossers".
At the Bristol Crown Court confiscation hearing, other family members were also told to pay up or face more jail time.
The court heard the family made £5m.
The bank account and assets of 53-year-old William Connors and his family were frozen in 2012 after police raided sites in Staverton, in Gloucestershire, Enderby in Leicestershire and Mansfield in Nottinghamshire the year before.
Connors' wife, Brida, 50, was told at the hearing she must pay £139,175.24 within six months or face a further 20 months in jail.
Scavenging from dustbins
Sons John and James must pay a combined total of £440,000 within six and 21 months respectively, while son-in-law Miles has to pay £17,886 within six months.
The court was told the Connors family gained £5m from their criminal activity and that more than £570,000 was available immediately. The rest of the money would be paid from their assets.
All five were jailed for between two years and six and a half years in 2012.
Some £150,000 of the £2.3m would be given to the Connors family's victims, who lived in poor conditions on traveller sites while they worked for the family's paving and patio businesses.
Some of the men worked for the family for nearly two decades.
Many were hit with broom handles and belts and punched and kicked.
The men were given so little food they resorted to scavenging from dustbins at supermarkets.
But the Connors family lived in luxury caravans fitted with top-of-the-range kitchens, drove flash cars such as Rolls Royces and holidayed in Mexico.