'Jarrow March' ends in pro-NHS rally in London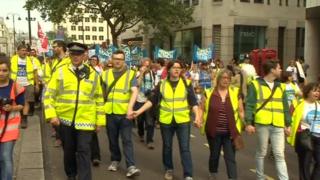 Thousands have attended a pro-NHS rally in London, the culmination of a 300-mile march organised by a group of mothers from County Durham.
The group from Darlington, the Darlo Mums, are opposing what they say is the privatisation of the NHS.
About 30 people took three weeks to march the full 300 miles from Jarrow in South Tyneside, organisers said.
The government said the NHS's use of the private sector had only increased marginally in the last four years.
The march, which began on 16 August, was a re-enactment of the 1936 "Jarrow March", a protest against poverty and unemployment during the Great Depression.
'No place for profit'
Trade unionists and health campaigners have also been involved in the march.
Protesters went through a number of towns and cities, including Leeds, Sheffield and Leicester, holding rallies along the way.
Police said about 3,000 to 5,000 people attended the rally in Trafalgar Square.
A number of high-profile figures have supported the campaign, including shadow health secretary Andy Burnham, writer and social commentator Owen Jones and singer-songwriter Billy Bragg.
The protest centres around the government's Health and Social Care Act 2012, which critics say has opened the NHS up to privatisation, but the government claims has given health professionals more decision-making power.
The protesters have called for the legislation to be repealed.
Darlo Mums founder Joanna Adams said: "It's been magic really. You only have to look over there [at the protesters gathered] to see people are behind the NHS and support what we're saying.
"Profit has no place in public health."
A department of health spokesman said: "Use of the private sector in the NHS represents only 6% of the total NHS budget - an increase of just 1% since May 2010.
"Charities, social enterprises and other healthcare providers continue to play an important role for the NHS."