Kai Lambe: Burton Junior Football league holds minute silence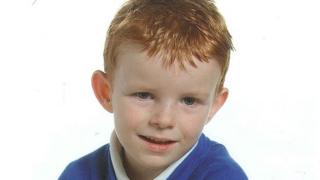 A Staffordshire football league has held a minutes silence in tribute to a nine-year-old boy who died after falling into the River Dove.
Kai Lambe, from Hatton in Derbyshire, slipped into a weir near Tutbury Mill in August. He later died in hospital.
About 300 clubs from the Burton Junior Football League took part in the tribute before their fixtures on Saturday and Sunday.
The league said it had also named one of its Under 10 divisions after Kai.
General Secretary Mark Jones said Kai had played for one of its teams, Hatton United, but the whole league had been affected by his death.
"Kai played a season in the under nines and he loved playing the game," he said.
"All of the clubs in all our age groups agreed that we should remember him on our opening weekend of the season and we thought this was a fitting tribute."
Kai's funeral will be held at St Mary's Church in Marston on Dove, on Thursday.
A fundraising campaign for a memorial for Kai in Hatton has raised about £1,900.