Navitus Bay: 'worth £10m' to Yarmouth harbour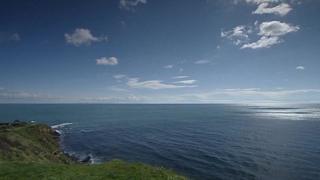 A proposed offshore wind farm could boost the Isle of Wight's economy by £10m a year, a harbourmaster has said.
The Navitus Bay wind farm would have 194 turbines up to 200m (650ft) high between the island and Dorset.
Yarmouth Harbourmaster Chris Lishe said an operations base on the island could create 100 jobs.
Nature and tourism bodies including the National Trust have raised concerns about the scheme's visual impact.
Mr Lishe said the Isle of Wight's econo my would benefit if the service vessels for the turbines were based at Yarmouth.
"What we've seen in other places is this isn't just about technical jobs and the bulk of the jobs are high paid.
"If this came to the island where there is high unemployment and lots of season work, it would give a career to lots of young people locally."
He said the skills needed for turbine maintenance already existed on the Isle of Wight from employees of the former Vestas factory, which closed in 2009.
Developer Navitus Bay Ltd is yet to announce where the operational and maintenance base would be.
'Dramatic seascape'
The National Trust, which owns Tennyson Down and the Needles Headland at the western tip of the island, has called for the plans to be amended to move the turbines to at least 12 nautical miles from the coast. The current plans place the turbines about nine nautical miles from the Needles.
The trust's Isle of Wight manager Tony Tutton said changes to the plans had so far been "token amendments".
"We have one of the most dramatic, elemental seascapes in Europe which thousands of people come to look at each year," he added.
Plans were submitted in April for the development which, Navitus Bay Ltd says, would contribute £1.6bn to the UK's economy over 25 years, and would generate power for up to 700,000 homes.