Police stations: Strange uses for old cop shops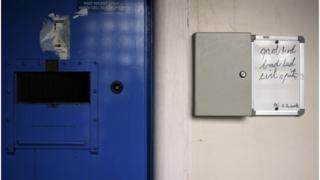 Police stations are among the most recognisable buildings in our town centres but many are now being put to new use. So what is it like eating dinner, going to school or enjoying a spa break in the cells?
School
Many naughty children have been warned they will face a night in the cells if they do not behave.
But for the 225 pupils of St John's Church of England primary school in Clifton, Bristol, that prospect is, perhaps, a little easier to imagine.
Each day, they sit amid the whitewashed walls, wipe-down tiles and brown, glazed brickwork floors of Avon and Somerset Police mounted section's headquarters.
As parents drop off their little ones, they pass a formidable iron cell door which has now been built into the front entrance.
"It is quite obvious it used to be a police station although we have painted it up," says headteacher Justin Hoy. "Some of the graffiti was rather inappropriate for a primary school.
The school, which opened in September 2013, still has the station's "police constabulary" sign above its front entrance, while the former cells form part of the school library.
"They actually work quite well - [the cells] are the perfect size for bookshelves," adds Mr Hoy.
"I don't think the kids really think about it having been a police station - to them, it's just their school and they love it."
Art gallery
Six years ago, London artist Antony Gross was looking for an exhibition space and happened upon a former Metropolitan police station in Deptford.
The idea for the Old Police Station Art Centre was born.
"We have four police cells where we hold exhibitions, plus around 35 artists' studios," said Mario Cordeiro, the building manager.
The station holds, among other things, a cafe, a radio station and a former interrogation room.
"It was important to us we didn't redecorate, so we kept the tiled walls and some of the police posters, about drugs and gangs," added Mr Cordeiro.
"Members of the public get quite excited with the idea of being in the cells and yet not being an offender. It's quite a unique experience."
Restaurant
The Pondicherry Indian restaurant in Ironbridge, Shropshire, took up home in the town's former police station 11 years ago.
Owner Babs Kumran says he and his brother remembered the building from their childhood.
"We have customers who come in who can remember their grandmother or grandfather spending a night here," he said.
"But it doesn't seem to put them off. In fact, they quite like it."
The station dates from 1862 but closed in 1967. Mr Kumran says the restaurant has retained many key features, such as the old magistrate's bench and four cells - three of them with original doors.
"It is a listed, heritage building, so we had to keep the majority of the features," he said.
"Although it is now very well-known as a restaurant, it still has the feel of a police station."
Spa
A police station might not be the most obvious place for a relaxing massage, but the Boutique Spa says its clients actually find the ambience "quite relaxing".
The business has two premises located in former police stations in Kent.
"They are just really attractive old buildings," owner Rachael Polyviou said.
"I used to live just up the road from one of them and I thought it was really nice-looking, so when I set up the business, it seemed like the ideal place."
Museum
Shire Hall, the site of Nottingham's medieval prison and courthouse - where history suggests the legendary Sheriff did his worst - was also the headquarters of Nottinghamshire Police from 1905 until 1986.
It was taken over by a charitable trust and transformed into a museum - the Galleries of Justice - dedicated to crime and punishment, which opened in 1995.
Now the museum's cafe is peppered with pictures of Victorian mugshots, while the police station's former exercise yard has been turned into an exhibition space, showing police uniforms from the past.
"The police station is not open to the general public, but we use it for educational purposes, for school trips," said senior curator Bev Baker.
"Children get to handle objects from our collections, such as handcuffs, and they are excited to see the old police cells, which still have graffiti on the walls from previous inmates."
Apartments
"Character properties are always popular," said Gerry Dowd, director of Purelake, which has developed three former Metropolitan police stations into apartment blocks.
The company was attracted to the projects, not only by the original features of the Victorian buildings, but also by the land available at the back, which was formerly used for kennels or stabling.
The three stations - at Shooters Hill, in Woolwich; Ladywell, in Lewisham and St Mary Cray, in Bromley - all contain private rented apartments and - while the original cells are no longer there - Mr Dowd says he has had no trouble renting them.
"They are all Grade II listed buildings," said Mr Dowd. "They look really good on the outside - one of them still has the original police sign outside the door - although many of the original interiors had already been removed by the time we took them on."
Charity HQ
"We were a little bit concerned that locating the charity in a police station would put young people off but it's actually having the opposite effect," said Justin Longford, health and lifestyle coordinator at The Abingdon Bridge charity in Oxfordshire.
The charity, which provides support for vulnerable young people aged between 13 and 25, moved into the town's former police station in September after it was offered to them as a premises by the council.
The building, which dates back to the 1850s, was last used as a police station in 1999. It has since been refurbished with the original cell doors kept in place.
One of the three cells is used as a kitchen, while the others are used as mentoring suites.
"Young people like the idea this building was used for housing criminals in the past - and that it's now being used to help them avoid that kind of lifestyle," added Mr Longford.