Social worker vacancy rates putting children 'at risk'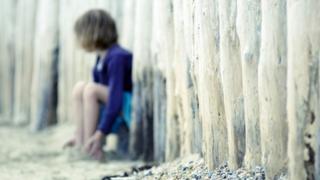 A shortage of social workers is putting some of the most vulnerable children at greater risk of harm, it is claimed.
A BBC investigation found more than a quarter of posts in Peterborough, Milton Keynes, Thurrock and Bedford were vacant.
Authorities say they are doing their best to recruit qualified staff and are using agency workers to cover gaps.
Experts say high vacancy levels create a "recipe for disaster" and called for greater efforts to retain staff.
The vacancy figures, revealed following a BBC Inside Out Freedom of Information request, show how vacancy rates in local authorities varied from 7% in Luton to 28% in Bedford (as at March/April 2014).
The latter said it had since implemented a "recruitment drive" and, in May 2014, "had successfully made 10 offers of employment for social workers".
Guy Miscampbell, who wrote a study on social work recruitment for the think tank Policy Exchange, said while it was "extremely hard to speculate" what the impact of different vacancy levels on councils might be, "10% was certainly a figure we identified as likely to indicate some issues, and 25% is certainly more problematic".
"There's obviously not direct causation to vulnerable children being at risk," he said. "However, it's perfectly reasonable to say that they're more likely to fall through the gaps, and less likely to have issues noticed and dealt with."
Nushra Mansuri, professional officer for the British Association of Social Workers, agreed - though emphasised post vacancies were merely part of the story.
"If a local authority is down by a quarter how can that not have an impact? There is only so much social workers can do and if they cannot give it their best, that will have a direct impact on the children and families.
"It can be a recipe for disaster," she said.
Staff shortages have been implicated in the deaths of a number of children in recent years.
One of them was five-year-old Tyler Whelan, murdered by his mother's former partner in March 2011.
A serious case review into Peterborough City Council's handling of his case found "numerous opportunities" had been missed.
The council accepted its handling of the case "was not good enough" and has sought to recruit more social workers and cut workloads.
But authorities with high vacancy levels are not the only ones to have problems.
In August, Buckinghamshire was found to be "inadequate" despite having a relatively low vacancy rate compared with other areas. Ofsted found 261 children who needed help in the county had not been allocated a social worker, despite many living in "neglectful and unsafe circumstances".
The council has pledged to improve "as quickly" as possible and said it had an action plan in place.
The real issue is more one of capacity and skills than filled seats, according to Ms Mansuri.
There is no shortage of students on social work courses at university. The shortages lie in the number of experienced social workers available for hire - particularly those qualified to take on the first tier of management.
And that is because many social workers quit the profession after just a few years. The "shelf life" of a social worker, says Ms Mansuri, is just seven years for women and eight years for men.
So the issue for local authorities is not just about getting social workers through the door but about encouraging them to remain in the sector.
Excessive case loads, the trauma of dealing with horrific cases, a lack of support, inadequate supervision, blame culture in society at large and a lack of career development and progression are just some of the issues social workers who feel "burned out" complain of, says Ms Mansuri.
If authorities want workers to stay, these are the areas that need to be addressed, she said.
Children's services vacancies
Authority
Vacancy rate (as a percentage of workforce)
Total workforce
Vacancies
Bedford Borough
28
83
23
Buckinghamshire
12
138
17
Cambridgeshire
10
221
23
Central Bedfordshire
Information not provided
Information not provided
60
Essex
12
605.7
72.6
Hertfordshire
15
441.15
65.62
Luton
7
94.45
6.6
Milton Keynes
22
85
22
Norfolk
22
256
56.84
Northamptonshire
Information not provided
Information not provided
Information not provided
Peterborough
27
81
21.6
Southend
12
Suffolk
7.2
250
18
One of the new people recruited by Peterborough after the Tyler Whelan case was Sue Westcott.
While Peterborough continues to struggle to recruit staff (one in five of the 81 posts are currently vacant), Ofsted has praised the value it places on supporting social workers and making permanent workers "a priority".
The authority - which had a 31% vacancy level in 2012 - is looking to pursue a "grow its own social workers" scheme through a trainee scheme. Once trained, the workers will be contractually obliged to remain with the authority for a set period of time.
Inside Out will be broadcast on Monday at 19:30 GMT on BBC One East, and afterwards on iPlayer.