Why are there so many West Yorkshire breweries?
By Trevor Gibbons
BBC News, Yorkshire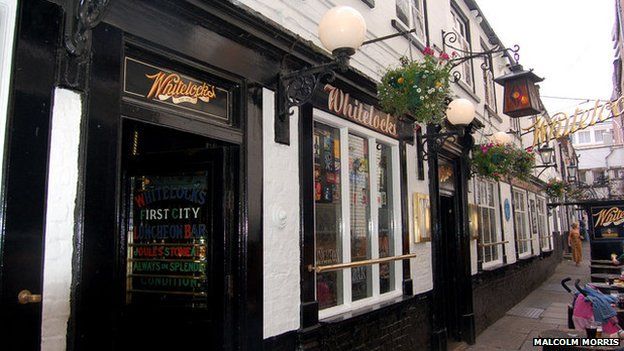 West Yorkshire has more breweries than London, the Campaign for Real Ale (Camra) has revealed. But why is the county such a hotbed for brewing excellence?
The county has 60 breweries featured in Camra's 2015 Good Beer Guide, 18 up on last year's total and more than Greater London's 54 and Derbyshire's 51.
Yet West Yorkshire's population of about 2.2m people is about four times smaller than the capital's. So why does West Yorkshire's broad acres lend itself to producing a myriad of master brewers?
"The water is a key part of the county's brewing but it really comes from the strong heritage and tradition of brewing in Yorkshire," said Luke Raven, of West Yorkshire's Ilkley Brewery, which was established in 2009. "We are surrounded by many old and large breweries."
He said the county's former heavy industrial centres had formed the basis of the industry in the past, but no matter how the nation's taste and the population had changed but there was "still a beer for everybody".
Ilkley currently brews 50,000 pints of beer a week and has made 40 different beers during 2014.
•Beer is brewed with just a few ingredients - water, malt barley, hops and yeast
•Hot water is added to the malt to produce what brewers call the wort. This contains sugars from the barley
•Hops are added to the wort to impart bitterness and help the beer keep
•The wort is boiled, strained and cooled
•Yeast is pitched into the brew and left to ferment, this converts the sugars in the liquid into alcohol
•The beer is then left to mature
"Yorkshire has a lot of large population centres so there's plenty of competition and that's fantastic it keeps all us brewers on our toes," Mr Raven added.
Sam Moss of Leeds Brewery is also well aware of the industry's heritage but says the support of the county's inhabitants is also invaluable.
"Nobody can survive without local support and that's the same from a small village up to the city of Leeds."
In 2011 Leeds' famous Tetley brewery closed. It had been on the same site since 1822 and Mr Moss said the "Tetley's thing" had given the city's brewers a benchmark to live up to.
He said there was a real feeling of local pride where beer was concerned and that - added to a growing interest in the origin of the region's food and drink - helped provide support for so many breweries.
Mr Moss also identified an increasing number of younger brewers coming into the industry who were interested in experimenting with new flavours.
Camra's choice of its 16 top pubs
Five Bells - Wickham, Berkshire
Victoria Inn - Colchester
Windmill - Sevenoaks, Kent
Freshfield - Formby, Merseyside
Steam Packet Inn - Whithorn, Dumfries and Galloway
Prince of Wales - Foxfield, Cumbria
John Bull - Alnwick, Northumberland
Door Hinge - Welling, London
Harewood Arms - Broadbottom, Greater Manchester
Kelham Island Tavern - Sheffield
Surrey Oak - Newdigate, Surrey
Beacon Hotel - Dudley, West Midlands
Lamplighter - St Helier, Jersey
Salutation Inn - Berkeley, Gloucestershire
"West Yorkshire has terrific pubs too, there's no point to brewing beer if you're not able to have somewhere nice to drink it," he added.
The beer guide book also names its choice of 16 best pubs out of the 4.500 it lists across the UK.
Roger Protz, the book's editor, welcomed the continued growth in local brewing in the county especially by the so-called micro breweries. These are companies producing a small amount of craft beer with an emphasis on ingredients and different styles of beer.
He said the increase in the number of small breweries meant "more choice for ale lovers".
Another of the county's older "new" breweries, Saltaire Brewery, was established near Bradford in 2005, and employs about 20 people.
Phil Riddle, sales manager, said it was following in a tradition of brewing in the county but, like many involved in the brewing boom, was focused on a craft market.
"It's about the product not the volume", he said. It produces about 45,000 pints a week.
Mr Riddle said there was a feeling that consumers were increasingly looking for independently produced food and drink and the trend was one the brewery tried to tap into.
He also said customers in a pub, when faced with a large multi-national brewery's product, might actively try a beer - like one from Saltaire - that they may not have heard of.
Mr Riddle said despite the focus on West Yorkshire's brewing heritage, some of the county's brewers had also found a new, younger consumer who was interested in drinking some of the new lighter-style "easy drinking" beers that had been developed by the craft brewers.
So it seems a rich mixture of the industrial revolution, the accident of water supply, brewing expertise, good public houses, strong local pride and an interest in food provenance have provided the heady ingredients in West Yorkshire's recipe for brewing up a storm.
Related Internet Links
The BBC is not responsible for the content of external sites.