Free Thames toll bridge gesture after delays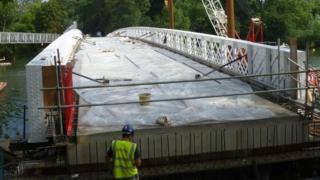 Motorists can use a River Thames toll bridge for free for five days when it reopens after reconstruction work.
Its operator said it was a "gesture of goodwill" following the work that has overrun by five months.
The toll-free period to cross Whitchurch Bridge will start on 19 September following its reopening at 17:00 BST.
Work was originally due to finish in April but was delayed by flooding and river conditions in December.
It has also cost £6m - £2m more than was originally estimated.
The 112-year-old bridge has been closed since October.
A crossing costs 40p for cars and £3 for lorries. Tolls will be collected from 24 September at 11:00 BST.
The bridge will reopen for pedestrians on 17 September.
About 6,000 vehicles a day normally use the bridge between Whitchurch-on-Thames and Pangbourne.