Northiam shooting: Seven-year-old girl dies in hospital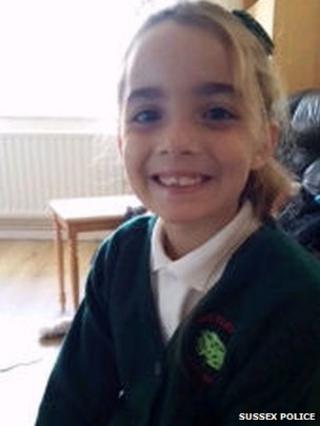 A seven-year-old girl, thought to have been shot in the head by her father in East Sussex, has died in hospital.
Mary Shipstone died at 14:56 BST in King's College Hospital in south London where she was flown after the shooting on Thursday afternoon.
The body of Yasser Alromisse, believed to be Mary's estranged father, was found at the scene. Sussex Police said a gun had been recovered.
Mr Alromisse did not live with the family in the Spring Hill area.
His body was found in a car parked on a driveway next to Mary's home. A vehicle, thought to be that car, was taken away on a lorry on Friday evening.
The area around the scene has been cordoned off since the shooting, which happened at about 16:00.
"This is a fast-moving investigation and there are still a large amount of inquiries being carried out before we can confirm the full picture of what happened," said Det Ch Insp Jason Taylor.
"We are currently trying to establish Mr Alromisse's movements over the last few days and are keen to hear from anyone who may have seen or heard from him.
"At this time however, I am not looking for anyone else in connection with this investigation and believe this to be an isolated incident."
Prayers were said on Friday morning at Mary's school, Beckley Church of England Primary in Beckley near Rye, which said it was a "dreadfully sad and shocking incident".
East Sussex divisional commander, Ch Supt Neil Honnor, said it was a tragic domestic incident which had had the most terrible outcome for the family.
"We are working with partner agencies and local leaders to support and reassure the community who are understandably upset about what has happened," he said.
"We are trying to be as open and honest with the public as we can but have to take into account the traumatic experience the family is going through as well as the fact that this is an ongoing investigation."
Mary lived with her mother and brother. The family released a statement through Sussex Police which said: "We are today grieving the death of our beautiful and loving Mary.
"We would please ask that the public and media respect our privacy and allow us to try to come to terms with what has happened."