Engineer shortage 'confining Royal Fleet Auxiliary ships to port'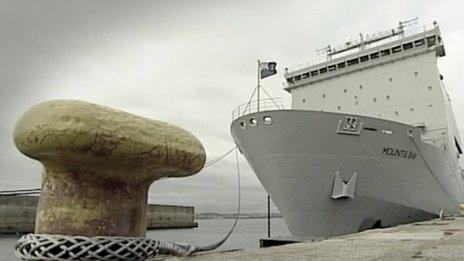 A shortage of engineers is confining some Royal Fleet Auxiliary (RFA) ships to port, the BBC understands.
BBC South West has been told Royal RFA Mounts Bay and RFA Fort Rosalie are effectively stuck in Falmouth, Cornwall, and Birkenhead, Merseyside, because of a lack of such crew members.
Defence and sailing experts said budget cuts and other job opportunities may be causing the situation.
The Royal Navy said it would not comment on ship readiness.
The main task of RFA ships is to supply Royal Navy warships with fuel, food, stores and ammunition while at sea.
RFA Fort Rosalie has been docked at Birkenhead since she came in for a 22-week refit in January 2013.
RFA Mounts Bay took part in maritime operations off Oman in the Middle East in November 2013.
Retired Royal Navy Commodore Steve Jermy said he was "surprised" at the engineer shortage but suggested that it could be linked to the Strategic Defence Review (SDR) in 2010.
"I think that the navy has cut back badly too early... and we're seeing the results of that now," he said.
The SDR said navy personnel would be reduced by about 5,000 to a total of 30,000 by 2015. It also said four frigates, the aircraft carrier HMS Ark Royal and the helicopter landing ship HMS Illustrious would be decommissioned.
It said that the RFA would be "scaled to meet the Royal Navy's requirements".
The navy is offering incentives of up to £45,000 in a bid to attract new, and hold on to existing, engineers to serve on RFA vessels and warships.
However, maritime companies said there was more competition.
Matt Hodson, of Mojo Maritime in Falmouth, said: "We're entering an era where there are great opportunities for people in the offshore wind and renewable energy sector, as well as oil, gas and general Merchant Navy sectors."
A Royal Navy spokesman said: "RFA Mounts Bay and RFA Fort Rosalie remain in the operational cycle and we do not comment on their readiness levels."
Related Internet Links
The BBC is not responsible for the content of external sites.