MP backs petition for councillor Robert Bleakley to resign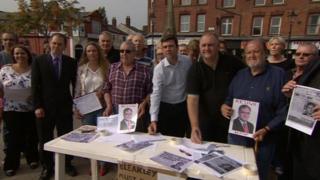 A Greater Manchester MP is backing calls for a councillor to resign after he used a council-issued mobile phone to call adult chat lines.
Wigan Independents' Robert Bleakley also used the phone to send explicit text messages, an investigation found.
Andy Burnham, Labour MP for Leigh said: "What kind of message would it send to young people about politics if nothing is done?"
Mr Bleakley said he was "not a sexist" and has paid back money he owed.
Over the weekend, people have been signing a petition in Mr Bleakley's home town of Tyldesley calling for him to stand down.
Mr Burnham, who added his signature, said: "Let's be honest, politics is held in pretty low esteem at the moment from the actions of politicians and councillors.
"The public needs to remove those who fall short, so there needs to be a right to recall MPs and an ability to remove councillors who don't meet the accepted standards."
'Washing material'
During a council investigation, Wigan Council's standards committee was shown text messages including one in 2013 in which Mr Bleakley swore and said women were "idiots".
It then said: "No wonder women are just cooking and washing material."
The committee did not suspend Mr Bleakley, but removed his council mobile phone and told him to take equal opportunities training.
Earlier this year, Mr Bleakley was found to have deliberately altered an email to try to jeopardise a senior employee's job and viewed pornographic material on his council-issued laptop.
Mr Bleakley has apologised but said he had no intention of stepping down.
Speaking on Wednesday, he said: "I am not a sexist, these remarks or text messages were made after the death of my mother and I have to say the early stages of a breakdown.
"They were totally out of character. They were said in jest to a very good friend of mine."