Plans to develop London Underground headquarters revealed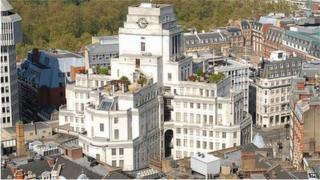 Plans to develop London Underground's historic Grade I listed headquarters in central London have been revealed.
Transport for London (TfL) wants to turn 55 Broadway in Westminster into a "landmark residential development" with affordable and private housing.
The building, built for the Underground Electric Railways Company of London, is currently used as office space.
The plans will be displayed from Tuesday to Friday at St James's Park station and submitted next month.
TfL said it hoped the "radical new plans" would generate up to £3.5bn which would be reinvested in London's transport network.
Graeme Craig, director of commercial development at TfL, said: "Our aim is to make life in London better and help keep the city working and growing.
"This means recognising our role as the custodian of one of London's largest and most valuable property portfolios and developing our assets for the benefit of the city."
But Labour's London Assembly housing spokesman Tom Copley said more needed to be done to make sure the development did have affordable housing.
He said: "The mayor should be doing all he can to ensure that this development includes the highest proportion possible of affordable housing. That means truly affordable, not the mayor's 80% of market rent level which is hardly affordable to anyone.
Bomb damage
"The mayor and Transport for London need to go back and look again at the weighting they are giving to affordable housing on the Broadway development."
Westminster City Council said the original plans had not included affordable homes and those that had been introduced would not exceed 40% of the residents' income for rent.
In a statement it said: "We welcome projects that increase affordable housing in London and create more jobs for people in Westminster. Regeneration projects should benefit local residents."
The building was designed by Charles Holden between 1927 and 1929 for the forerunner of London Underground.
It suffered considerable bomb damage during World War Two.