Child heart surgery: NHS seeks views on new guidelines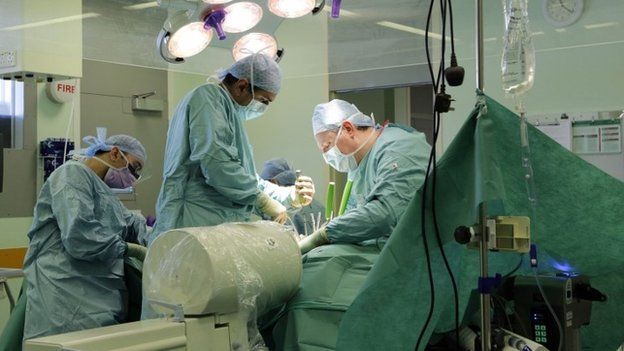 A consultation has begun into the future of children's heart surgery in England after a review last year was dismissed by the government as flawed.
There was strong opposition to the NHS "Safe & Sustainable review", which suggested the service should end at three hospitals.
Since then new standards have been drawn up with patients, patient groups and staff from affected hospitals.
The public consultation on the new guidelines is due to end in December.
They focus on surgery for Congenital Heart Disease (CHD) - birth defects that affect the normal workings of the heart.
Ten hospitals currently provide CHD surgery - one of the most complex procedures in the NHS. They are:
Great Ormond Street, London
Evelina Children's Hospital, London
Royal Brompton, London
Leeds General Infirmary
Glenfield Hospital, Leicester
Newcastle's Freeman Hospital
Birmingham Children's Hospital
Alder Hey, Liverpool
The Royal Children's Hospital, Bristol
Southampton General
There was strong opposition to last year's review, which concluded that surgery should end at Leeds, Leicester and the Royal Brompton and be focused at the remaining seven sites - which would become "centres of excellence".
Jeremy Hunt called for the Independent Reconfiguration Panel (IRP) to assess the decision in July 2013.
NHS England said the new draft standards cover every part of the patient's life from early diagnosis during pregnancy, through childhood, adult life, planning a family and onwards.
This includes communication with patients and their families, transition for children moving between child and adult services, and support for patients and families when their disease does not respond to treatment.
'No predetermined closures'
Professor Huon Gray, national clinical director for heart disease at NHS England, said they had "listened".
"This is not a done deal, and everyone has the opportunity to give their feedback on the standards," he said.
Consultant at Glenfield, Adrian Boulger said he had been told that once the standards had been agreed, there would be "no predetermined plan of closure".
"If we can achieve the standards that are set up we will continue to provide those services and we will do everything we can to achieve that," he said.
Glenfield had already started to implement the standards, he added.
A decision on whether hospitals will close or remain open could be made by spring next year, Mr Boulger said.
Related Internet Links
The BBC is not responsible for the content of external sites.