Stolen WW1 medals return to Quarry Bank Mill after 36 years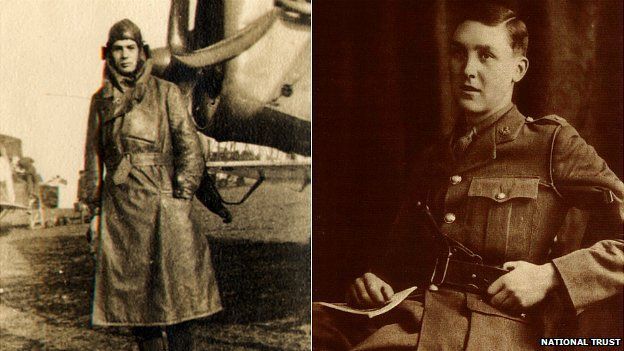 A set of WW1 medals have gone on display at the National Trust property they were stolen from 36 years ago.
The medals, awarded posthumously to Arthur and Robert Greg, went missing in 1978 from their family's former business, Quarry Bank Mill in Styal.
A National Trust spokesman said they were believed to have been in private collections since the theft and "came to light last year".
He said they would now help to tell an "important part of the mill's history".
Arthur and Robert were the eldest sons of the mill's co-owner, Ernest Greg.
Arthur received his commission to the Cheshire Regiment in 1914. He was shot in the jaw at the Battle of Ypres in May 1915 and sent home to recover.
He then joined the Royal Flying Corps, but was killed in action in April 1917 in France at the age of 23.
Robert also served with the Cheshire Regiment, receiving his commission in January 1918.
He was killed after only three weeks at the front when a shell hit his dug-out near Kemmel in May 1918. He was 19.
The brothers' British and Victory medals, along with Arthur's 1914 Star, their memorial plaques and letters from King George V, were sent to Ernest at the end of the war and put on display at the mill after they were donated by their younger brother Alexander Greg.
All but Robert's British medal were stolen in the 1978 theft.
David Sekers, who was museum director at the time, said it had been "very upsetting for Alec".
"They were such tangible reminders of his elder brothers," he said.
The returned medals have gone on display as part of the mill's Heroes of Adventure exhibition, which runs until 16 November.
Related Internet Links
The BBC is not responsible for the content of external sites.