Ford Open Prison absconder Craig Hayler jailed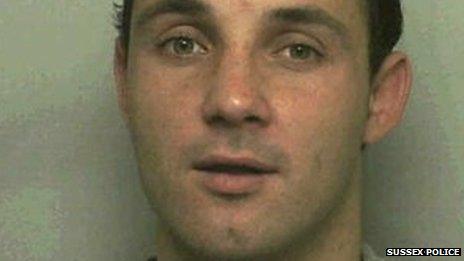 A prisoner who committed four offences after absconding from Ford Open Prison has been jailed for three months and nine months.
Craig Hayler, 31, walked out of the jail in West Sussex in March and was arrested in Southampton on 29 July.
At Southampton Crown Court, he admitted being unlawfully at large, making off without payment and two burglaries.
Hayler had been repatriated to the UK to serve a six-month prison sentence imposed for burglaries in Cyprus.
At the time of his disappearance from the prison, near Arundel, he was being supervised by Southampton Probation Service.
In June, Sussex Police said 89 prisoners who had gone on the run from Ford Open Prison in West Sussex were still unaccounted for.
Thirty-four of those prisoners have been missing since 2004 but others absconded decades ago.
The prison can take up to 557 inmates and accepts offenders with under two years left to serve.
The Ministry of Justice said major changes had been ordered to tighten up temporary release processes and open prison eligibility.
The issue of open prison absconders hit the headlines after Michael Wheatley, nicknamed the "Skull Cracker", absconded from HMP Standford Hill in Kent on 3 May.
Related Internet Links
The BBC is not responsible for the content of external sites.