Ministers accused of letting nurseries 'wither on vine'
Richard Moss
Political editor, North East & Cumbria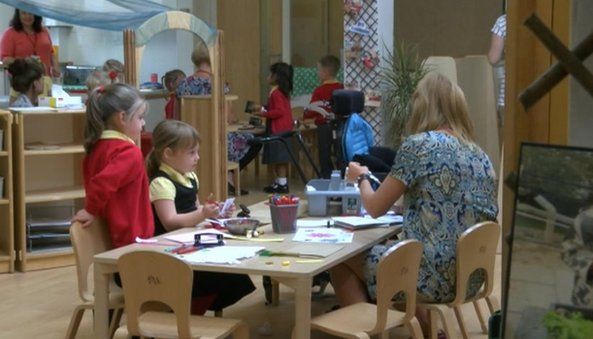 They are a hugely successful part of our school system - yet the government has been accused of letting local education authority nursery schools "wither on the vine".
More than 60 have closed over the last decade, and a recent survey by an early years campaign group suggested only 12% of the 418 state-funded nurseries that survive were optimistic about their future.
And yet the evidence suggests they are the highest-achieving part of England's education system.
In 96% of cases inspectors found them to be either good or outstanding.
In fact, 57% of those nursery schools got that top outstanding rating, compared to just 17% of primary schools.
Nursery school heads say there are understandable reasons for that performance.
Firstly they use highly qualified specialist staff. Each nursery school has a head teacher and they largely employ graduate staff supplemented by specially-trained nursery nurses.
Secondly, they say that unlike the primary sector they can focus that expertise entirely on the pre-school age group.
Many also tend to focus on learning through play and say primary schools can get distracted by trying to get three year olds to focus on the kind of skills they'll need to pass tests further up the school.
The problem is their approach is more expensive. Their staff bill is higher and they don't benefit from the economies of scale of bigger schools.
In addition, the sector believes recent funding changes and the pressure on council budgets haven't helped.
The result is those closures and the ongoing threat to their survival.
Oxclose Nursery in Washington, near Sunderland, in the north-east of England is one that has had financial battles and yet has an outstanding record.
Head teacher Julie Heron believes the year children spend with them is invaluable.
She said: "Within Sunderland there are nine nurseries surviving and actually doing very well with high numbers of children. But they are not being recognised in terms of getting the funding to meet the needs of those children.
"Yes, it is more expensive, but that's an investment in those children's futures. If we get it right from the very beginning then there does not need to be as much spent catching up later on."
For that reason their supporters are pressing the government to act and provide them with more money to acknowledge their expertise and achievements.
North West Durham Labour MP Pat Glass organised a Commons debate to press for change.
The North East has proportionately more nursery schools than other parts of the country, and she believes they are playing a critical role in raising standards in deprived areas.
She said: "Statistically they are by far the best way of delivering early years education, and they deliver just as good, if not better, results in disadvantaged areas. That's very important to the North East which has an above average number of state nursery schools, and more deprived communities.
"All I wanted to do in the debate is to wake up ministers to the fact that we have these centres of excellence and we are allowing them to wither on the vine. They need to face the fact and wake up to that."
But the government is reluctant to redraw funding formulas to offer specialist state nurseries any extra funding.
In reply to Pat Glass, new childcare minister Sam Gyimah was clear that to do so would be to the disadvantage of councils which have no or few LEA or, as they're known, maintained nursery schools.
He said: "There are 49 local authorities with no maintained nurseries, and 43 with only one or two. A funding approach that treated maintained nursery schools differently would not be fair to those areas."
The government also says that although there has been a decline in the number of state or maintained nurseries, the number of children attending them hasn't fallen as many now have larger pupil rolls.
There is also some good news for all nursery schools as the pupil premium is being extended to early years children, with each provider eligible for £300 for each qualifying pupil.
But those working in the sector still fear without substantial change there will be an inexorable if slow decline in their numbers.
And Pat Glass believes the UK is in danger of damaging the one set of schools which are forging ahead of other nations.
She said: "Ministers are travelling all over the world searching for the best models for education, and yet they are in danger of ignoring here a beacon of excellence right here."
Pat Glass's Commons debate came on the same day that new research revealed just what an impact a good nursery education can have.
The study by Effective Pre-School, Primary and Secondary (EPPSE) found that children who'd had early years education scored better GCSEs and earned more money over their lifetimes.
Staff at state nurseries would agree with those findings. But they fear without extra help, their future prospects are not as bright as those of the children they're teaching.