Four of six East PCCs 'cost more' than police authorities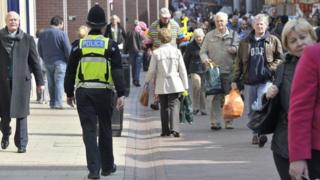 Four out of six police forces in the East of England are spending more on police commissioners than the old authority system, one by more than 60%, figures have shown.
Freedom of Information requests have found increases in Bedfordshire (5.1%), Cambridgeshire (3.8%), Norfolk (8.62%) and Northamptonshire (61.5%).
Essex and Suffolk saw spending decreases of 20% and 2.7%.
Police commissioners replaced the old police authorities in 2013.
The BBC compared the figures for the last full years of the police authority - from April 2011 to April 2012 - with the first full years of the police and crime commissioners (PCC) - from April 2013 to April 2014.
Andy Sawford, Labour MP for Corby and East Northamptonshire, said he had particular concerns about the PCC expenditure in Northamptonshire and its 17-strong management team, which includes the press office.
"At a time of cutbacks in policing, it is totally wrong for the police commissioner to waste so much money on the press office. Nobody really wanted these commissioners because it's wrong to politicise policing. The sooner the role is abolished the better."
Deputy Prime Minister Nick Clegg has labelled PCCs a "failed experiment". But the Home Office said they had replaced "invisible and ineffective police authorities".
The cost of PCCs v police authorities
Police force
Cost of police authority system
Cost of police and crime commissioner system
Bedfordshire
£786,109
£826,563
Cambridgeshire
£839,000
£871,000
Essex
£1.19m
£950,000 * (Estimate)
Norfolk
£1.26m
£1.37m
Northamptonshire
£694,599
£1.12m
Suffolk
£978,383
£951,309
Adam Simmonds, Northamptonshire PCC, defended the role and said: "The huge remit that I have and the huge agenda I have set out requires me to have a staff. I am not embarrassed by that. I have a lot of work to do."
'Costs kept down'
Cambridgeshire PCC Sir Graham Bright said he was keeping office costs to a minimum.
"In the longer term, you cannot compare police authorities with police and crime commissioners," he said. "The role of commissioner is much bigger. For example I am taking on responsibility for support to victims from October this year and that has meant a lot of planning and preparation since my election."
Bedfordshire PCC Olly Martins said he faced "one-off" redundancy costs in 2013-14 that inflated the cost of his office.
He said the longer term cost would be at a "similar level" to police authorities.
A spokesman for the Norfolk PCC Stephen Bett said there was a slight initial increase in the spend between the last full year of the Police Authority and first full year of the new system due to redundancies and additional costs associated with the restructure.
Mr Bett said: "The new staff structure is leaner and more closely matches my priorities and those of the people of Norfolk."
Nick Alston, PCC for Essex, said the estimated £950,000 first-year costs of his office needed to take into account his "remit", which is "more far-reaching" than that of police authorities.
Suffolk PCC Tim Passmore, who has cut costs, said: "From day one it was really important to me that we did not add extra burden on the taxpayer so I chose not to employ a deputy or any political advisors, as many PCCs have done.
"I do have the support of a very effective team and this has allowed us to manage the extensive workload of this office at a lower cost than the police authority."