Stan Laurel letter to Tynemouth school friend sells for £1,400 at auction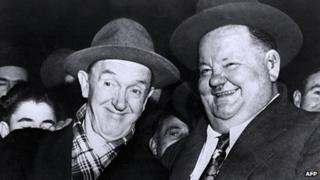 A letter from comedian Stan Laurel has been sold for almost three times its estimated value at auction.
The signed note was sent in 1960 to the family of Mr Laurel's childhood friend Margaret Miller from Tynemouth who later married Laurel's school friend.
A private British buyer paid £1,400 when it went under the hammer at Newcastle auction house Anderson and Garland on Tuesday.
It was expected to fetch between £300 and £500.
A spokeswoman for the company said there had been "lots of interest" in the item from the Cumbrian-born star, which talks about his "many happy memories" of Tynemouth Pavilion.
Mrs Miller's 88-year-old daughter, also called Margaret, found the letter in her brother's belongings when she moved house.
One line from the letter read: "The picture of the pavilion brought back back many happy memories of my early days - that was one of my favourite haunts. I used to often ride the sands on my pony, her name was Peggy."
Stan Laurel - whose real name was Arthur Stanley Jefferson - was born in Ulverston in Cumbria in 1890.
The comic actor later emigrated to the US where he found fame in Hollywood starring alongside Oliver Hardy.
Before emigrating, he spent much of his life in the north-east of England, going to school in Bishop Auckland, County Durham, and Tynemouth.