Avon and Wiltshire mental health trust 'must improve'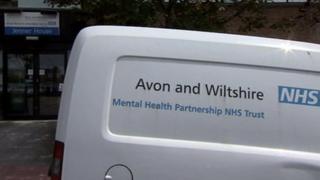 A mental health trust must take "significant steps" to improve, the chief inspector of hospitals has said.
Four warning notices have been issued requiring Avon and Wiltshire Mental Health Partnership NHS Trust to take urgent action.
Prof Sir Mike Richards said staff were caring, but there were 32 areas where quality of services must improve.
A trust spokesman said many required actions and improvements had been completed, following June's inspection.
The Care Quality Commission inspected 39 wards, 27 community services, and specialist services, over four days.
In response to the inspection team's findings, the trust must provide a plan setting out how it will address each requirement.
---
Four warning notices
Hillview Lodge, Bath - premises not well maintained; design, layout and décor not appropriate as a therapeutic environment or one in which people's privacy and dignity are promoted or protected
Blackberry Hill Hospital, Bristol - potential ligature points not dealt with
Fromeside Hospital, Bristol - a number of units experiencing significant staff shortages; supervision arrangements for new staff insufficient
The trust had failed to: assess and monitor the quality of its services; make necessary changes following previous inspections; or taken action to manage identified risks
---
The trust spokesman said: "While we are disappointed by some aspects of this report, we are pleased that the inspection team recognised the kind, caring and responsive approach of our staff and noted their high skills in the delivery of care."
He said the trust had made an effort to be open and transparent with the 70-strong team that visited under the CQC's new inspection regime.
"As a result many actions have been completed and improvements made such as increased recruitment, staffing being more closely matched to needs, an accelerated replacement and refurbishment programme for our buildings and units, and additional training," he said.
'Change in leadership'
"The warning and compliance notices issued by the CQC have highlighted the need to re-prioritise some of the planned actions and to make sure that changes are made faster.
"We accept the inspectors' conclusions and reaffirm our absolute commitment to delivering consistently the required standards."
Dr Paul Lelliott, Deputy Chief Inspector of Hospitals, said: "I recognise that there has been a change in the most senior leadership of the trust, which has now embarked on a programme of service improvement.
"We found that the board and senior management have a clear vision with strategic objectives.
"The onus is on them now to make the urgent improvements we require - and then to sustain that improvement in the long term."