PC Ian Terry death: GMP officer 'required to resign'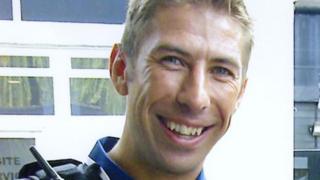 A Greater Manchester Police officer has been forced to step down over the fatal shooting of an unarmed colleague during a training exercise.
PC Ian Terry 32, was killed in June 2008 during police firearms training at a disused warehouse in Manchester.
The officer, known by the pseudonym "Francis", admitted gross misconduct in relation to the way the training was organised and conducted.
Another officer who fired the fatal shot has been reprimanded, police said.
A hearing organised by the force found that officer, known by the pseudonym "Chris", guilty of gross misconduct.
An inquest held in March 2010 found PC Terry was unlawfully killed, but the Crown Prosecution Service (CPS) said there was "insufficient evidence" to bring criminal charges in relation to his death.
PC Terry, from Burnley in Lancashire, was not wearing body armour when he was hit from a distance of about 12in (30.5cm) by a blank round of specialist ammunition not designed to kill.
He was playing the role of a criminal fleeing in a car.
'Unnecessary pain'
In a statement, his family said: "We welcome the verdict but feel that this decision, together with the unlawful killing verdict reached by a jury at the coroner's inquest in 2010, confirms our opinion that the officer known as Chris should not have been allowed by the CPS to escape facing charges in a criminal trial.
"The important result of this hearing is that we finally feel the officers responsible have been shown indisputably that they are undeniably to blame for Ian's death and we want them to know that we believe if they'd had the courage to face the consequences of their actions in 2008 and take responsibility for their actions, they could have saved our family six years of unnecessary pain and difficulty."
The Independent Police Complaints Commission (IPCC) called it a "shocking wake-up call" for the force's firearms unit, with "completely unnecessary risks" resulting in PC Terry's death.
Sir Peter Fahy, Chief Constable of Greater Manchester Police, said: "Ian Terry was a complete professional, highly regarded by all his colleagues, who served the public of Greater Manchester with huge commitment and expertise.
"Since Ian's tragic death we have introduced a number of rigorous measures to ensure that the risk to our officers on such training exercises is minimised and that their safety is our number one priority."
Greater Manchester Police admitted breaching health and safety law over the shooting and "Francis" was fined £2,000 and ordered to pay costs of £500 at Manchester Crown Court.
The force was fined £166,666 and ordered to pay costs of £90,000.
A third officer did not face the gross misconduct hearing as he had retired.