The Clacton by-election campaign gets into full swing
Deborah McGurran
Political editor, East of England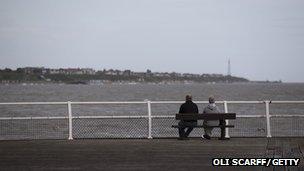 It is three weeks since Douglas Carswell's resignation and the by-election campaign in Clacton is now well underway.
The candidates have been picked, dozens of activists are out leafleting and shoppers are getting used to being accosted by journalists and politicians.
Thanks to the Scottish referendum, it's been a fairly low key campaign so far but we have already had the first reports of egg throwing, metaphorically and literally, when William Hague dodged them on his walkabout.
UKIP seized on a Conservative leaflet which asked people what they thought about "local rail and tube services", pointing out that the nearest underground station was 62 miles away.
The Tories said the question had been edited down and was relevant because many people in Clacton work in London.
There was also a bit of excitement when it emerged UKIP hadn't applied for change-of-use planning permission for its campaign office.
"We thought we didn't have to," explained a spokesman. "It is still a shop because we're selling UKIP merchandise".
It was also revealed that the Conservative candidate was the owner of two yachts: "they're small boats," was the official explanation.
While Labour had to explain how headlines about their candidate with the words "wife swap" in them referred to his appearance on a Channel 4 programme and not a colourful past.
Glad we've all got that straight....
Meanwhile, the way UKIP behaved over Douglas Carswell's defection - brushed off light heartedly by Nigel Farage - may yet prove damaging.
The party's decision to drop its locally chosen candidate, Roger Lord, in favour of Mr Carswell, without even telling him, was badly handled.
Mr Lord, a friend of Nigel Farage and a long time party donor, was cast aside without any explanation and he eventually resigned.
But for a party which talks about local democracy, this was embarrassing.
It also provided the Tories with an ideal PR opportunity to hold an open primary where the public, not the party, got to choose the candidate.
All the candidates are trying to stress their local credentials.
Douglas Carswell, who doesn't permanently live in the constituency, is trading on his nine years as a local MP.
The Conservatives' Giles Watling is a well known local councillor, Labour's Tim Young grew up and lived for many years in the town while the Green's Chris Southall is a local environmentalist, who has contested the seat before.
The Liberal Democrats' Andy Graham is from Hertfordshire but we're told he's taught in local schools and as an actor once trod the boards at Clacton's West Cliff theatre.
As we predicted, there has not been much talk about Europe on the doorsteps. Voters keep raising local issues like healthcare, street lighting and the local economy.
There are two interesting, independent candidates standing as well.
Dr Bruce Sizer, a consultant oncologist at nearby Colchester General, says there are 25% more elderly people in the constituency than the national average and that puts pressure on cancer and other healthcare services.
While Charlotte Rose is a sex worker from London.
Howling Laud Hope, standing for the Monster Raving Loony party, completes the line up of eight candidates in this by-election.
The polls suggest the main battle will be between UKIP and the Conservatives, but with three weeks of intense campaigning ahead anything can happen.