Train stuck in flood water after storms in southern England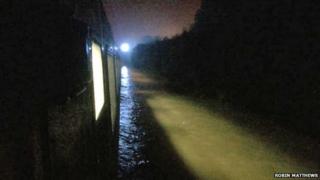 Passengers had to be rescued from a train after it became trapped in flood water during a night of storms in southern England.
Ninety people on the train, which got stuck near Corsham, Wiltshire, were trapped for four hours.
One passenger, Robin Matthews, said the storm was so loud the train's "windows were rattling".
Lightning also struck across Bristol and in Wiltshire, Dorset and Devon homes were damaged.
The First Great Western service travelling between London Paddington and Swansea became stranded in flood water shortly after 01:00 BST on Friday at Pound Pill in Corsham.
The train came to a halt in a cutting where water was up to 1m-deep (3ft) in places.
Mr Matthews, said: "We were about 20 minutes outside Swindon and all of sudden there were bright flashes in the sky followed by thunder and it got louder and louder."
He added the storm was "very, very close and the windows started rattling" when the service "came to a complete halt".
"The driver announced there was signal failure and we had to stop."
---
Overnight storms
The Met office said there had been between 0.4 and 0.8in (10 and 20mm) of rainfall over a four-hour period on Friday morning
Wiltshire Fire and Rescue received more than 200 calls for assistance from 21:00 BST on Thursday
Claremont Residential home in Corsham had a power cut and also flooded during the storm
In Steeple Ashton the high street was hit by flash floods
In Melksham, Wiltshire, one house was struck by lightning causing "significant damage" to the roof and loft space
In Wootton Fitzpaine, near Lyme Regis, Dorset another house was seriously damaged
In Honiton, east Devon, the roof of a house caught fire after it was struck by lightning
Western Power Distribution said about 300 properties in the South West had been temporarily affected by power cuts due to the storms
Several flats were flooded in Dawlish, Devon, after heavy rainfall overnight
---
After waiting for a few hours he said the passengers were moved off.
"It was a really nice spirit really, where people were helping each other out," said Mr Matthews.
One carriage from the train was decoupled, and using a rear power car, taken to where there was less flood water and where the passengers could disembark and be taken home by taxi.
Dan Payne, from First Great Western, said: "We had to keep them fed and watered until we could get them to a place of safety and with the help of the fire brigade and emergency services evacuate them by around half-past four this morning."