Scotland's answer poses the English question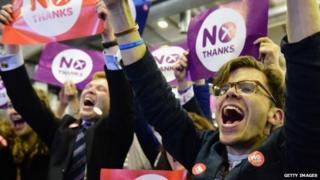 "There are more questions than answers."
So said the old song and it certainly sums up the outcome of the Scottish Referendum.
Suddenly the focus switches to the imbalance in terms of funding and of sheer political clout between England and the devolved UK nations.
The gap would only widen if, as promised, Scotland benefits considerably from "devo max" and there were no reciprocal boosts for England.
The debate will rage at Westminster over English-only MPs deciding English laws. But no less significant is the growing clamour for a bigger say for England outside the capital.
"We must empower the great cities," said David Cameron immediately after the result of the referendum.
But what might this mean in practice?
That's what I asked Councillor David Sparks, the Labour leader of Dudley Council, who recently took over the chairmanship of the Local Government Association (LGA) representing over 400 councils across England and Wales.
He told me he thought those great cities ought to be run more like the way Joseph Chamberlain ran Birmingham in the late Victorian era, long before rate-capping had been invented, let alone the Barnet Formula - widely seen as an over-generous subsidy for Scotland.
City regions
Councillor Sparks reminded me that the people of Dundee had on average £1,600 more public money spent on them per head of the population than their counterparts in Dudley, though it was the hard-working tax-payers in Dudley who were footing the bill.
Recent polls suggest an overwhelming majority of English voters, something like 80%, think it's high time the biggest country in the UK got a fairer deal.
The idea of "city regions" is not in itself new, but it has a new energy, partly by default because the Conservatives are not temperamentally attuned to regions as such.
Whereas partnerships among local authorities, possibly around the existing Local Enterprise Partnership area like Greater Birmingham, the Black Country or Coventry and Warwickshire could possibly gain traction among all the main parties.
Councillor Sparks tells me he is determined to use the extra leverage of his LGA chairmanship to persuade the parties to give local authorities a much freer hand over how they raise or vary local taxes.
That might mean a local income tax perhaps, or keeping the proceeds of the business rate rather than passing it on to Whitehall to be divvied out around the country by central government decision-makers.
In a hard-hitting interview he told me England's present arrangements were an "anachronism" which needed to be replaced. He said areas like ours were treated by Westminster like colonies during the days of the British Empire.
You will be able to see it in full in what promises to be a very lively edition of Sunday Politics this weekend at 11:00 BST on BBC One in the Midlands