Domestic violence: A mother and daughter's escape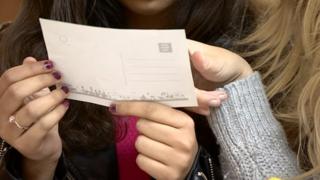 After emerging from the darkness of a seven-year relationship of terrifying violence, a mother and her 13-year-old daughter helped set up a charity to support other victims of domestic abuse. Here they explain how they fled their brutal home.
Even though they had been free of him for four years, there were times Maria* still thought the man she called dad was hiding in the shadows, watching her.
"I'd think he'd be around a corner, or when doors are closed and they have a long line of darkness between the door and the wall I'd think he'd be there, looking at me," she said.
Maria was just 11 when her stepfather was jailed for his seven-year campaign of violence against her mother, Sarah.
The screams and beatings she had heard, night after night, while tucked up in bed upstairs, still haunted Maria. Until recently, she suffered from separation anxiety disorder and struggled to leave Sarah's side.
"I've sort of had to take steps towards being on my own in a room," she said, describing her year-long progress towards sleeping alone.
"I moved into my own room about a year ago. Sometimes my mum would have a mattress on the floor while I slept in my bed. Sometimes I would sleep in her room.
"I used to have some dreams that my mum would get back with him. In one, he kept chasing her and we were running and he was singing love songs to her.
"I woke up then because of how scared I'd been."
It is hardly surprising Maria, now 13, viewed her stepfather as some kind of bogeyman.
But unlike the nightmares that cause other children to stay awake in the night, the terror Maria could picture was both recent - and real.
Sarah's relationship with the man who would bring her so much pain began not long after her parents died. She was a recently-divorced single mum - a vulnerable target, she now believes.
"He was just so charming," she recalled. "He really seemed to take an interest in me and he was lovely with Maria. Very quickly, I became dependent on him."
The violence started about two years later, when Maria was about two-and-a-half.
"Slowly, his real side started to come out," Sarah said. "I couldn't believe what was happening. You think that if you're quite a strong, intelligent sort of woman, you will never let yourself be abused.
"But when you end up in that kind of relationship, and somebody strikes you, you make excuses for them. You tell yourself that it's because they're stressed at work and they made a mistake. And, the first few times, he seemed genuinely remorseful."
But smacks and punches soon turned into brutal sexual violence. Sarah was threatened with a machete and repeatedly raped. She was gang raped in her own home, while her partner recorded it on film.
"He showed me those films and said that if I tried to leave him, he would show them to my family," she said.
"You are so ashamed over what you believe you have allowed to happen. I wanted to tell people so much, but I couldn't physically get the words out. They would just get stuck in my throat."
She says she became "like a robot".
"I became totally detached," she said. "I lived two separate lives. During the daytime, I was with Maria, trying to be a mummy and make a normal life for her. But once evening came, I was in another world - one of total violence."
But as Maria grew older, Sarah became increasingly conscious that her daughter was aware of what was happening.
"When she was a baby, I would tell myself she was asleep," she said. "But as the violence became more extreme, I could see she was growing more aware of it. And I knew that if we stayed, we would come out of that house in body bags."
And so the great escape began. Sarah and Maria moved 14 times in three years to try to get away.
Wherever they fled, he tracked them down. Whenever they reported him, the authorities failed them.
They stayed in a mixture of hostels and "grotty" B&Bs, found for them by social services, and lived on miniature packets of cereal.
"There was one B&B that had insects crawling all over the carpet and a drug addict trying to kick my door down at 04:00," recalled Sarah.
She would wake at six to get Maria ready for school, taking a mysterious chain of buses and around-the-houses walking routes across the city, in case he followed them.
By the time she got back to the hostel, it was time to go back and pick Maria up again.
"I had to keep taking her to school - I was scared she would be taken off me if I didn't," she said.
And yet, still he found them.
Hidden abuse: The facts about domestic violence
According to the Crime Survey for England and Wales, five million women or 30% of the adult female population have experienced some form of domestic abuse since the age of 16
In March, a report by HM Inspectorate of Constabulary said three women a fortnight were being killed by a partner or former partner and a third of all assaults recorded by the police related to domestic violence
However, the report said only eight out of 43 forces were responding well to domestic abuse
"One day, when I collected her from school, he was hiding in the bushes outside," she said. "He jumped out with a knife. Then he took me to his house and left Maria in the back garden while he took me inside and raped me at knifepoint."
When Sarah went to the police, they told her they could not guarantee her safety. Every time her partner was charged, the courts let him out on bail.
"The lack of protection for victims is just so wrong," said Sarah. "Maria was walking around with a rape alarm at the age of seven."
Finally in 2009, Sarah's former partner was given an indeterminate sentence - with a minimum tariff of eight years - for multiple charges, including rape, poisoning, actual bodily harm and indecent assault.
An "amazing" social worker supported Sarah through the ordeal of giving evidence in the case. Being cross-examined, even via video link, was so horrific she was sick.
"He was free to walk around the court before the case started," she said. "He knew I was in the witness care room and he was shouting threats outside the door, trying to intimidate me."
When I first met Sarah and Maria, in autumn 2010, they had just moved into their own house - a brightly-decorated, red-brick home on a quiet Midlands estate.
"Far away from him," as Maria put it.
For the first time, they were not fleeing for their lives. Sarah could collect her daughter from school without fearing her ex would be hovering at the school gates.
Maria could make friends and learn how to sleep at nights, without her dreams being interrupted by the sound of blows downstairs.
In the small, puzzled voice of a child trying to understand what has happened to her, she said she had been about four when she began to notice the violence.
"I used to think it was what happened to everybody," she said.
"When I went to tea at somebody's house, I was expecting dads to start getting really angry, but they were just really jolly."
Slowly, tentatively at first, they have settled into their new lives.
Despite all that they have endured, the one thing that has survived remarkably undamaged is their closeness to each other. As they speak, they finish each other's sentences. As they describe each other's likes and dislikes, they smile.
Together with two other domestic violence survivors, Sarah has set up a charity - Voices of Experience - which supports other women and children emerging from violent relationships.
Today, two years after our first meeting, Sarah is due to go to university. She says that although she never feels completely safe - unsurprising, given her experiences - she is happy.
"I'm a different person now," she said. "I like to believe that if he turned up, I'd know how to deal with him but, at the same time, I don't know..."
Released from her anxiety and the stress of constant moving, Maria no longer wakes in the night. Her nightmares, she says, are "normal" ones.
"I feel better about being on my own now," she said. "I don't think he's going to come and get me."
*Names have been changed to protect identities.
Maria will be describing her experiences to her aunt, Helen, in a Listening Project conversation, due to be broadcast on Radio 4 on Wednesday at 10:55 GMT and repeated on Sunday at 14:45 GMT.