Assessment suite closures concern for mental health in Norfolk and Suffolk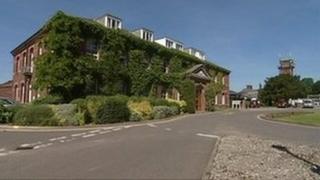 Concerns over plans to centralise Norfolk mental health assessment suites in Norwich have been raised by a police commissioner and a union.
Norfolk and Suffolk NHS Foundation Trust, which manages the suites, has started consulting staff on the proposal, the BBC understands.
People are brought to the suites, often by police, to assess if they need to be detained for mental health reasons.
If they are centralised, King's Lynn and Great Yarmouth units would shut.
The trust said it could not comment as it was making a series of announcements on Monday.
In a letter seen by the BBC, the trust says the plans are at their "early stage and require work to demonstrate their clinical and financial benefits and feasibility before they can be moved to actual development if approved".
Section 136 suites
•The police can use section 136 of the Mental Health Act (MHA) to take people to a place of safety such as a mental health suite
• At the suites mental health professionals can arrange an MHA assessment
• The patient might be sectioned and a bed found
At present the trust has assessment suites, which are called Section 136 suites, at Hellesdon Hospital in Norwich, the Fermoy Unit in King's Lynn and at Northgate Hospital in Great Yarmouth in Norfolk.
In Suffolk the trust has suites at Wedgewood House in Bury St Edmunds and The Woodlands in Ipswich.
A third suite at Carlton Court in Lowestoft is at present earmarked for closure.
Emma Corlett, spokeswoman for Unison at the trust, said she was concerned at the extra journey times that could be experienced by people with mental health problems in getting them to a suite, and the extra time it could put on police resources escorting them to the units.
"When you are trying to manage resources it does not make sense to transport people an extra 40 miles for an assessment," she said.
"We hope that they properly consult staff and people who use the services."
Tim Passmore, Suffolk Police and Crime Commissioner, said he would be concerned if the Great Yarmouth suite closed as well as the Lowestoft suite because it could add more time to police journeys.
"Two officers in the car escorting someone to an assessment suite from Lowestoft to Norwich will [take] well over an hour," he said.
He said he would be talking to the Chief Constable about any trust plans next week.
"Anecdotally, on some evenings officers spend 40% of the night dealing with mental health problems. We need to find a solution," he added.
The office for the Norfolk Police and Crime Commissioner said it would not comment until after any official announcement.
The trust has had to make £20m of savings over the last two years, but is still facing a £1m deficit this year.