Becky Godden murder inquiry: Detectives make car appeal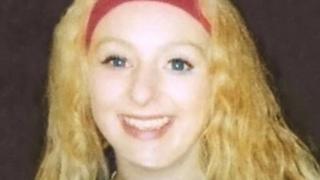 Detectives investigating the murder of a Swindon woman have appealed for information about the whereabouts of a silver car.
Becky Godden's remains were found at a farm in Gloucestershire in 2011, eight years after she disappeared.
Police want to know what happened to a silver Volvo, registration T661 LGP, believed to have been in the Swindon area in 2002-03.
They said it may have been sold to an Irish man at an Oxfordshire auction.
Det Ch Insp Sean Memory said the car was sold at ASM auctions in June 2004, but it was not clear what happened to it afterwards.
"It may well have been sold to an Irish man, who bought other cars at the same time," he said.
"It may be that someone knows this man, or recognises the vehicle.
"It is possible that - although it has not been registered - that it could be sitting in a back yard or garage. We need to know where it is now or what has happened to it.
"I would like to hear from anyone who has information, as they may be able to assist our investigation."
Ms Godden was 20 when she was last seen on 27 December 2002 and there are no confirmed sightings of her in 2003.
Her remains were unearthed at Baxter's Farm, Eastleach, following the arrest of taxi driver Christopher Halliwell over the disappearance of 22-year-old Sian O'Callaghan.
Officers were led to the body by Halliwell, but he was not prosecuted over her death after a judge ruled detectives had ignored arrest guidelines.
Halliwell was later jailed for life for Ms O'Callaghan's murder.
Wiltshire Police searched the Eastleach field again in April and found a bone, which matched Ms Godden's DNA.