Warwickshire College jobs: Sixty in redundancy threat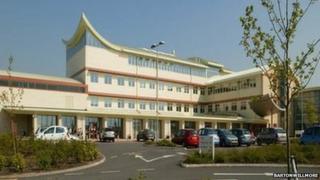 Up to 60 jobs are under threat in a restructure at Warwickshire College, the college has said.
It comes amid disagreement with the University and College Union over its investment and salary decisions.
The union said it was "upset there are jobs on the line" when student numbers were "buoyant".
College principal Marian Cavalli resigned in July after the union questioned the size of her £230,000 salary.
'Getting it right'
Ms Cavalli's pay was approved by a board of governors, including the current interim principal, Sue Georgious.
Ms Georgious defended her predecessor's salary and said that the college was "getting it right", but that there was a need for redundancies.
The college said jobs would be lost where courses were no longer funded or had insufficient demand, saving £3m it wanted to cut from its budget.
Teresa Kaur, from the University and College Union, said: "We're upset there are jobs on the line and the reason given is a money shortfall, and we're looking at what the money has been spent on in the last few years.
"Something like £14m is being spent on the refurbishment in Leamington, and £6 or £7m at Pershore (at the college's Worcestershire campus)."
Ms Georgious said: "Decisions on investments - whether salaries or buildings - are made by governors in the best interests of the students. I don't believe we have got it wrong."
She said that funding for building investment had come from a capital grant.
The college currently employs about 1,800 people and has 16,000 students.