Tata Steel's Rotherham research site in move to Warwick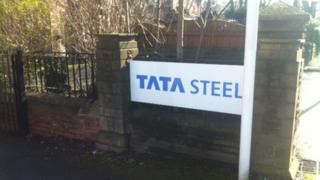 A research and development facility run by Tata Steel in Rotherham is set to move to Coventry.
All 135 staff are being offered the chance to relocate to a new base at the University of Warwick, the firm said.
The firm announced a potential move from the Swinden Technology Centre in March, when it was awarded £8m by the government for research.
But a union spokesman said it was likely a lot of workers would not want to move which was of "extreme concern".
'Move not overnight'
The relocation would see the Rotherham site close, Tata Steel confirmed.
Steve McCool from union Community, which represents about 50% of workers there, said: "We cannot afford to lose skills these people have.
"The value they add - it's an old industry and the skills have been gleaned over many, many years."
But the steel giant said it had only recently signed contracts to move to the university and the relocation "would not happen overnight", perhaps taking up to two years.
Scientists and engineers there will carry out research into several areas including, renewable energy and more fuel-efficient vehicles.
The firm already funds three professors at the university who look at aerospace and automotive issues, Tata Steel said.
'Critical mass'
Deciding to base its new research and development centre there was like "formalising" Tata's connection with the university, the spokesman said.
The new base would run alongside the university's own Advanced Steel Research Centre, the university confirmed.
The two new centres will provide "a critical mass of research excellence", a spokesman said.
Last September, plans were revealed for a £100m car research centre at the university, which would be part funded by Jaguar Land Rover which is owned by Tata.