Stafford Hospital spleen rupture patient could have lived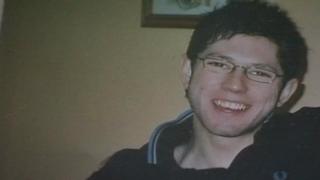 An inquest has concluded a patient who died after being discharged from hospital with an undiagnosed ruptured spleen could have been saved.
John Moore-Robinson died at home in 2006 in Leicestershire after staff at Stafford Hospital failed to notice the severity of his injuries.
Coroner Catherine Mason concluded had staff done their job properly, the 20-year-old would have survived.
His family said the hospital was "in meltdown" at the time.
Mr Moore-Robinson, from Sileby, near Leicester, was admitted to the scandal-hit hospital after a mountain bike accident on Cannock Chase.
He later collapsed at home and died in Leicester Royal Infirmary.
Mrs Mason found six separate shortcomings at the hospital's A&E all of which contributed to his death.
She said: "The seriousness of Mr Moore-Robinson's condition was not fully appreciated and decisions in relation to his care were made on incomplete information as a result of poor communication, poor documentation, inadequate assessment, insufficient investigation and an oversight to consider medical notes that were available."
She added that on the "balance of probabilities the loss of his life could have been prevented".
Speaking after the hearing, his sister Kelly Hainsworth said it had been a "long eight years" but they were satisfied with the facts and accepted the findings.
'In meltdown'
His father, Frank, believes other lives could have been saved if his son's death had been properly investigated at the time.
"Stafford Hospital at the time was in meltdown," he said.
"Many, many people have lost their lives, including our son John, and that we can never forgive them for. It's been a hard road but one we have had to take."
The inquest heard that a paramedic told Stafford Hospital he believed Mr Moore-Robinson's condition was potentially life-threatening.
Still vomiting
But the patient was sent home with a diagnosis of bruised ribs after an x-ray showed he had not suffered any bone fractures.
Friends described him as confused and still vomiting and they had to use a wheelchair to get him to a waiting car.
Staff told the inquest they felt "bullied" by a four-hour target for patients' length of stay in A&E.
Mrs Mason concluded that Mr Moore-Robinson was not triaged properly and a nurse failed to communicate "obvious" and relevant information which meant he was treated by a junior doctor more than an hour after his arrival at Stafford Hospital.
The hearing was the second inquest into his death after the High Court overturned the original ruling following a campaign by his family.