New Royal Leicestershire Regiment memorial at National Arboretum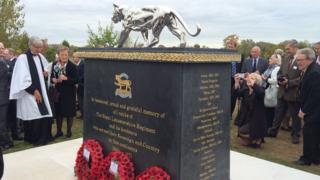 A new memorial to the Royal Leicestershire Regiment has been dedicated at the National Arboretum.
The dedication comes on the 326th anniversary of the founding of the regiment.
Nicknamed the Tigers, the the regiment was given its "royal" title in 1946 by King George VI.
The memorial features a tiger sitting on an Irish blue limestone plinth, sculpted by Theodore Gillick.
---
History of The Tigers
From the battle of Namur in 1695 to the campaign in Korea in 1952, the regiment was awarded 73 battle honours
The regiment's last operational tour was in Borneo between 1963 and 1964, after which it was amalgamated with The Royal Anglian Regiment
The Tigers' badge incorporates a Royal Tiger and the inscription "Hindoostan"
The badge was awarded to the regiment in 1825 by King George IV in recognition of its "exemplary conduct" in India
---
The event included a special service of dedication conduct by the Very Reverend David Monteith, the Dean of Leicester and attended by the Lords Lieutenant of Staffordshire, Leicestershire and Rutland.
The new memorial is one of more than 300 at the National Arboretum, near Lichfield, in Staffordshire, dedicated to the memory of people who have served their country.
More than 300,000 people visit the site every year.