Clapham couple cancel engagement party to do overnight walk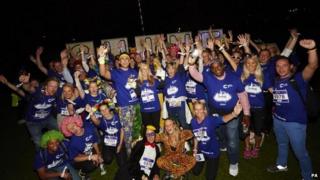 A couple from south London cancelled their engagement party at the last minute to take part in a fundraising walk with all 62 of their guests.
Harry Vickers and Emma Thornton Jones, from Clapham, decided to do the Shine Night Walk in honour of Mr Vickers' father Tony, who has bowel cancer.
The group joined 16,000 others to walk from Southwark Park to Old Billingsgate for Cancer Research UK on Saturday.
The couple, who are due to get married next June, raised more than £8,000.
Mr Vickers, 27, said: "Very sadly, the doctors told us dad isn't going to be around for the wedding, so at the 11th hour, we announced we were going to do Shine instead and asked the guests if they would like to join us.
"The response was phenomenal. "
The group, which included the groom-to-be's mother, involved walkers aged between 19 and 70 with Mr Vickers, 71, able to follow their progress from his hospital bed.
Harry Vickers said: "There is of course a very sad element to this.
"But everyone is affected by cancer and doing this seemed the most positive response to the situation.
"To have our family and friends with us, literally every step of the way, felt great."