Fines of £100 at West Midlands railway car parks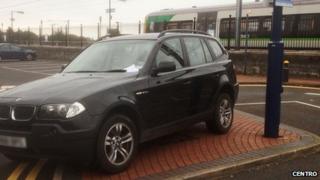 Centro bosses are hoping new £100 fines will stop nuisance parking at railway stations across the West Midlands.
The transport authority said it recorded 80 complaints last year about incorrectly parked vehicles.
The fines will target cars obstructing others or not in bays and vehicles wrongly using disabled parking bays.
Centro said on one occasion at Cradley Heath, 170 vehicles were blocked in for three hours by cars parked outside bays.
Coventry city councillor, John McNicholas who is also the chairman of Centro, said it had become a real problem in some areas, especially as there was only "limited space" available.
The fines will also apply to Midland Metro car parks.
Centro said park and ride sites were popular, with many full by 08:00 on weekdays, which has led to parking on grass verges, pavements and double yellow lines.
It said it had been working to increase the number of spaces, and current projects include providing a total of 713 spaces at four stations.