Salisbury Cathedral awarded grant for new Magna Carta display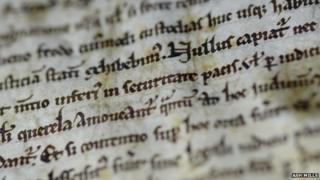 Salisbury Cathedral has been awarded £415,800 by the Heritage Lottery Fund (HLF) to mark the 800th anniversary of the Magna Carta in 2015.
The cathedral is home to one of the four surviving original Magna Carta.
The peace treaty is seen as the cornerstone of the development of constitutional law in England.
The money will pay for a new permanent exhibition of the original 1215 document in the chapter house using interactive stations and film.
Magna Carta was agreed at Runnymede in 1215 and outlined basic rights with the principle that no-one was above the law, including the king.
It charted the right to a fair trial and limits on taxation without representation.
The Very Reverend June Osborne, Dean of Salisbury, said the money would enable the cathedral to share the anniversary with the "widest possible audience".
"As we reflect on the sealing of this milestone in human rights, we hope to help people to engage on a personal level with the values it represents and its lasting legacy of equality and justice," she said.
The cathedral has also devised a programme of events to mark the anniversary including an art project with men from Erlestoke Prison, a tourist trail and a concert performance of a new, Magna Carta based, musical.
Sajid Javid, Secretary of State for Culture, Media and Sport, said: "The HLF support for this project is timely and a fine example of how lottery money can be used to help mark the anniversaries that make us proud as a nation."
The other surviving copies of Magna Carta are held by the British Library and Lincoln Cathedral.