Norfolk ambulance kept hip fracture woman, 90, waiting six hours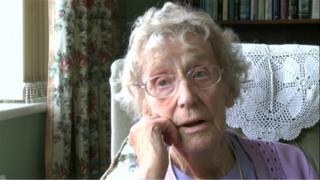 An ambulance service has apologised to a 90-year-old woman left waiting for a vehicle to take her to hospital for six hours after fracturing her pelvis.
Barbara Hedley fell at her home in Beeston Regis on the Norfolk coast but was able to call for an ambulance.
A paramedic arrived within two hours but her case was given a low priority as she was conscious and breathing.
The East of England Ambulance Service is to send one of their staff to talk to her about what happened.
The incident happened four weeks ago and Mrs Hedley said she was in a great deal of pain.
"I didn't know which way to turn. I couldn't make myself comfortable and I was in shock," she said.
Di Chan, from the trust, said: "I'd like to apologise to the patient for waiting as long as she did to be taken to hospital.
Trust facing fines
"A paramedic attended her two hours after the call but an ambulance crew was not available until much later.
"We are looking at this patient's case and will visit her to discuss what happened."
The trust said it aimed to get more ambulances on the road while recruiting hundreds of frontline staff.
Because Mrs Hedley was conscious, breathing and it was not life-threatening her call was downgraded.
The ambulance service admits that between April and August this year there were 164 instances in north Norfolk where response times to non-life threatened patients were "breached", triggering fines by commissioners.