Hassan Khan: 'Blind cricket changed my life'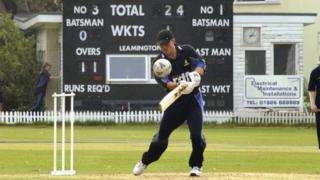 More players are now taking up blind cricket than ever before but why is the sport becoming increasingly popular?
A bowler running in at full steam, a batsman looking for gaps in the field and a player standing at short leg. This is a T20 cricket match taking place in north London but with a slight twist.
The ball being used is the size of a small football, the wickets are bigger than usual and fielders are allowed to take a catch off a single bounce.
Hassan Khan was left blind at the age of three after a genetic illness caused his eyesight to deteriorate slowly.
After learning to adjust to his condition, he began playing cricket in boarding school before being scouted by the London-based Metro side.
"My blindness always used to make me feel useless but cricket has been a friend that has helped me to wipe that problem away and it allows me not to think so much about my sight," he said.
The 27-year-old became the first Asian player to represent the England visually-impaired cricket team and is part of the squad which will be competing at the Blind Cricket World Cup in South Africa next month.
"The game's given me so much beyond just the sport - it's given me independence," he said. "I was so scared of doing everyday things like going on the Tube by myself but now I travel on my own.
"I'm more confident and it's really changed my life."
Hassan is one of more than 300 players who now take part in the game's domestic league, with a total of 17 clubs across the country playing the sport competitively.
The game's governing body believes a combination of raising awareness of the sport at a grassroots level and working alongside blind charities has led to an increase in the number of players nationally.
"A lot of people say, 'Blind cricket, are you sure?' But then, they see the rules aren't much different and it feels like you're playing regular cricket - batting's the same, bowling's the same," said John Garbett, development director at Blind Cricket England and Wales (BCEW).
The rising popularity of the game is reflected by the increase of players from a South Asian background, who now make up nearly a fifth of all players in the domestic league.
"We've been doing taster days in areas with big Asian communities where cricket is obviously a massive game. You mention the word 'cricket' and they're there straight away," Mr Garbett said.
The international version of the game has a number of further differences - players have to bowl underarm and the ball is filled with steel bearings so that batsmen and fielders can hear it rattle.
IT professional Kirren Kaja is originally from India but has been living in England for the past six years and plays for the Northants Steelbacks.
He said: "It's a nice way to get out and do things that other people also do. I love cricket. It's my favourite pastime and so I don't need much persuading to play."
Having been forced to give up the game for 14 years due to a lack of facilities in India, Mr Kaja began playing blind cricket again after moving to London.
"Cricket is part of an Indian child's DNA," he said. "I used to play in school but then had stop. But now I'm playing the sport I love again and it's great. It makes me feel just like anybody else."
You can hear more on this story on the BBC Asian Network on Wednesday 1 October at 13:00 BST or listen back on BBC iPlayer