East of England ambulance thieves stealing 'life-saving' supplies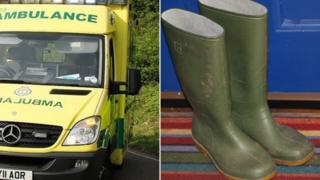 Thieves have stolen "life-saving" equipment and supplies including morphine, oxygen cylinders and even flashing blue lights from East of England Ambulance Service vehicles.
Since 2012, equipment worth at least £4,000 has been taken from ambulances and paramedic vehicles, the BBC found.
One thief also took Wellington boots worth £10.
The trust described thefts from ambulances as "astounding" and has increased security at its sites.
Some of the items were stolen from paramedics' vehicles parked outside their own homes.
A Freedom of Information request by BBC Essex revealed these included sat-navs, light bars from the top of vehicles and morphine, the value of which the trust did not disclose.
'Heartless' thefts
However, a number of thefts occurred while vehicles were parked outside hospitals in the region.
Thieves made off with Entonox cylinders - an anaesthesia gas also known as laughing gas - oxygen bags and medics' kit bags, one of which included the Wellington boots.
Some equipment was even stolen from a vehicle while paramedics were attending to a patient in their home.
Kerry White, a duty locality officer with the service, said staff attending emergencies did not always have time to secure their vehicles, as their priority was attending to what could be a life-threatening situation.
"You're going to have to trust the public not to venture into the back of an ambulance," she said.
"You've got to be pretty heartless to steal life-saving equipment."
Rob Ashford, from the trust, said: "It is astounding how anyone can steal from an ambulance service, especially whilst crews are treating ill patients.
"This equipment is vital to us, but it also could be dangerous in the wrong hands.
"We work closely with the police to thoroughly investigate the thefts, and have had to increase security at our sites to try and stop this from happening."