Cpl Geoffrey McNeill death: 'Brutal attack' broke soldier's neck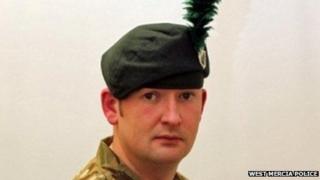 A soldier was "brutally" murdered by a comrade in an attack at a Shropshire barracks that broke his neck after a night out drinking, a court heard.
Cpl Geoffrey McNeill, 32, from Ballymoney, County Antrim, was found dead in an accommodation block at Clive Barracks in Tern Hill in March.
The prosecution told Birmingham Crown Court that L/Cpl Richard Farrell "inflicted heavy blows" on Cpl McNeil.
L/Cpl Farrell, 23, of Clive Barracks, denies a charge of murder.
Christopher Hotten QC, prosecuting, said L/Cpl Farrell "violently and brutally attacked" Cpl McNeil, landing blows to his "head, stomach, and genitals".
He said the 32-year-old was killed by a "significant force" applied to his neck, breaking three bones, in an attack carried out between 04:00 and 06:00 GMT on Saturday 8 March.
'Acting like maggots'
Mr Hotten told the jury there was "no lawful excuse for the attack or the injuries inflicted".
"The attacker intended, at the very least, to cause Geoffrey McNeill really serious injury and he died as a result of those injuries," he said.
The prosecution said there was "no history of ill-feeling or animosity" between the two men, who served in different companies of The Royal Irish Regiment.
The jury heard how the previous evening both men had been drinking separately before going to the nearby town of Market Drayton.
Mr Hotten described an incident in the town's Clive and Coffyne pub, when L/Cpl Farrell was told by another soldier that a girl he was talking to was "with another man".
"Mr Farrell was annoyed and complained that some soldiers were, as he put it, acting 'like maggots'," Mr Hotten told the jury.
'Geoff, calm down'
The jury heard that later that night CCTV from inside the Sandbank Vaults pub showed Cpl McNeill knock L/Cpl Farrell down with a punch.
Mr Hotten said that punch "could provide an explanation for a later attack carried out by Mr Farrell, as revenge for what had happened".
After the fracas, both men returned separately to barracks at about 03:00 BST.
Between 04:00 and 04:30 BST, a soldier whose room was opposite Cpl McNeill's thought he heard "bumping noises" and a male voice say "'Geoff, calm down', two or three times," said Mr Hotten.
The jury heard L/Cpl Farrell awoke in the base's guardroom, and later went to Cpl McNeill's room, and said he found the other man lying on the floor in just his underpants.
"According to Farrell he made vigorous attempts at resuscitation, and that would have led to a significant transfer of DNA," said Mr Hotten.
The trial, which is expected to last four weeks, continues.