Stalker laws: Murdered Jane Clough's family in register call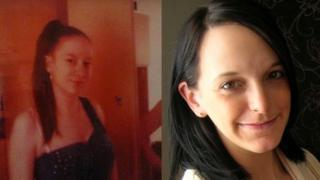 The families of two women, who were murdered by abusive ex-partners, have called for convicted stalkers to sign a register similar to sex offenders.
More than 100,000 people have signed an online petition calling for a change in the law to monitor offenders.
The parents of Jane Clough, who was murdered in Blackpool in 2010, have already campaigned to change bail laws.
They have been joined by the family of Kirsty Treloar, who was murdered in London in 2012.
"Stalking is a crime that is insidious and terrifying and yet many still do not understand it," said Jane's father John and Kirsty's mother Pamela Dabney.
"Stalkers steal lives and take lives. Both our daughters, Kirsty Treloar and Jane Clough, were murdered by their stalkers.
"Our daughters could have been saved if their serial abusers were on a register and being managed and monitored."
New year honour
Mr Clough suggested stalkers were still just subject to a "slap on the wrist".
He said his daughter's killer followed her on social media accounts and bombarded her with text messages on her phone.
The petition, on the site petition.org, does not guarantee a parliamentary debate.
Ms Clough was stabbed 71 times by Jonathan Vass, after he was released on police bail after being charged with rape and assault offences against her.
Ms Treloar was stabbed 29 times by Myles Williams, who also wounded her brother and sister, because she wanted to end their relationship.
Jane's mother Penny was awarded an MBE in the New Year's Honours List for her work in helping to change the bail law allowing the prosecution to appeal against allowing the granting of bail at the High Court.