Cpl Geoffrey McNeill murder case: Jurors visit barracks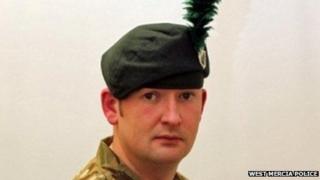 Jurors have visited a barracks in Shropshire where a soldier is alleged to have murdered his comrade.
Cpl Geoffrey McNeill's neck was broken by L/Cpl Richard Farrell, 23, at Clive Barracks in Tern Hill on 8 March, Birmingham Crown Court has heard.
Prosecutors allege L/Cpl Farrell attacked 32-year-old Cpl McNeill, from Ballymoney, County Antrim, in revenge for being punched by him in a pub the night before.
L/Cpl Farrell, 23, denies murder.
Both men served with The Royal Irish Regiment, but in different companies.
After returning from the pub, L/Cpl Farrell sought his comrade out in his room and assaulted him, breaking his neck in three places, the court heard on Tuesday.
In CCTV shown to the court, L/Cpl Farrell was shown being floored by a punch delivered by Cpl McNeill in a pub in the nearby town of Market Drayton.
Jurors heard that L/Cpl Farrell told police he had been drunk and did not remember anything after being punched in the pub.
Following the visit to the barracks, the jury was released for the day and the trial will resume on Thursday,