Men guilty of Yorkshire child sex offences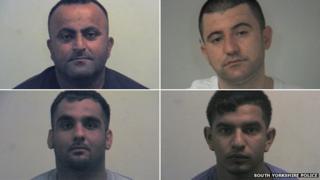 Five men have been jailed after a teenage girl was trafficked and sexually abused in Yorkshire.
Mohammed Shapal, 22, Shakeal Rehman, 26, Usman Ali, 21, and Yaseen Amini, 35, sexually abused the girl, Sheffield Crown Court heard.
Rehman was jailed for 12 years for raping the girl at a hotel.
The fifth man, Bekir Rasheed, was jailed for four years for trafficking the girl.
Amini, of of Broad Way, Bradford; Shapal, of Haworth Road, Bradford and Ali, of St Mary's Road, Bradford, were found guilty of sexual activity with a child.
Amini was jailed for five and a half years for sexual activity with a child and three years for trafficking, to run concurrently.
Rasheed, of Ulverston Road, Woodseats, Sheffield, and Shapal were each jailed for four years for sexual activity with a child. Shapal's sentence includes two years concurrent for trafficking.
Ali was jailed for three years for sexual activity with a child.
Rehman, of Haworth Road, Bradford, will also serve four years concurrently for trafficking.
'Particularly gratuitous'
The girl was taken by Shapal and Rehman in the summer of 2013.
Three days later she was taken to a party held by Rasheed, where she was sexually assaulted by Amini.
Sentencing the five men, Judge Jonathan Durham-Hall QC said: "You each in turn subjected her to an appalling ordeal in your various compartmentalised participation.
"This was a very vulnerable girl in need of protection and care who received nothing of the sort."
Turning to Rehman, a convicted drug dealer and burglar, he said: "The way that [she] described your actions are indeed indicative of a callous gratuitous rape. It was not opportunistic, this was in the planning.
"You were indeed for some part during your transportation intent on using her for sex.
"The way you used her suggests, as indeed your previous convictions suggest, a particularly gratuitous, nasty person."
As Rehman was led away he shouted abuse at the court.