Azelle Rodney murder case: Ex-police marksman named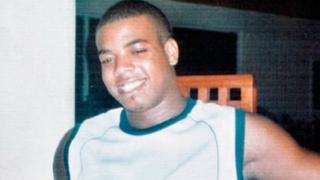 The former police marksman charged with the murder of robbery suspect Azelle Rodney has been named as Anthony Long after reporting restrictions were lifted at the Old Bailey.
Mr Rodney, 24, was travelling in a car that was stopped by police in Edgware, north London, when he was shot six times in April 2005.
Police said they were looking for a group of men they believed were on their way to an armed robbery.
Mr Long will stand trial next June.
He was a specialist firearms officer with the Metropolitan Police (Met) and had previously been referred to as E7.
He did not attend the hearing, before Mr Justice Sweeney.
The Crown Prosecution Service announced it planned to charge the officer in July, after reviewing new evidence following the outcome of a public inquiry into Mr Rodney's death which ruled there was "no lawful justification" for the shooting.