Missing sailor rescued from damaged yacht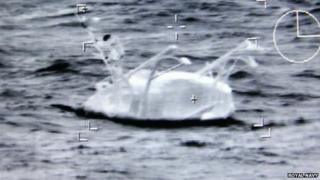 A sailor has been rescued from his badly-damaged boat after nearly 12 hours adrift in stormy seas.
Mick Royton, 52, sent a VHF radio message shortly before 17:00 BST on Monday, reporting the yacht was at risk of capsizing in the English Channel.
A major search involving the coastguard and navy was called off before he was found at 04:00, 18 miles south of Portland.
Mr Royton said it was a "huge relief" to be rescued.
He had been living on the vessel and was travelling from France to Poole.
"I thought my time was up. I was very glad to get out of the storm and glad to be safe," he said.
An experienced sailor, Mr Royton was suffering from the early stages of hypothermia and was taken to hospital in Dorchester after being brought ashore.
'Hanging on'
Two coastguard helicopters, a navy helicopter, a French aircraft, a navy vessel and lifeboats originally searched an area 37 miles (60km) south of the Needles.
Cdr Catherine Jordan, of HMS St Albans, said this was the position the sailor had given to coastguards.
She said the search had concluded before he was found during the navy vessel's normal duties.
Cdr Jordan said the boat was "leaning over and drifting in the heavy seas" when the yachtsman was discovered.
"He was hanging on - it wasn't pleasant for him, the yacht was rolling around a lot," she said, adding: "He was in distress."
'Atrocious conditions'
Andrew Jenkins, of the MCA, said the "very faint" Mayday call was picked up by a merchant vessel.
He said: "Quite a large-scale search was undertaken in quite atrocious conditions.
"Once the units on scene had used up their endurance, we called in a fifth rescue helicopter from RAF Chivenor to complete the search but the conditions were so bad that they had to call off their search due to the electrical storms in the area."
Mr Jenkins said Mr Royton was brought ashore by a lifeboat because the conditions were too severe to winch him off.