Conker fights: Is it the end for the playground game?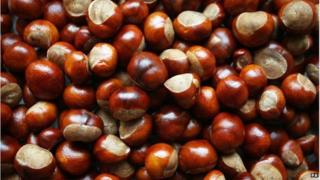 Small, shiny and glowing with the promise of autumn, conkers were once irresistible to generations of children who baked them in ovens, dipped them in vinegar and put them on strings to enjoy playground conker fights. But, as record numbers of conkers fall from trees, the trend appears to be falling from fashion. BBC News Online asks why.
As Aileen Francis and her two sons make one of their regular trips to their local sports centre, in Nottingham, they pass a line of horse chestnut trees.
Aileen's sons - aged 10 and 12 - dart forward and fill their bags and pockets with conkers.
"They love collecting them - we come home with massive bagfuls," said Mrs Francis. "But they don't have conker fights any more. I don't know anybody that does."
Children's disdain for conkers is something of a mystery.
"When I was at school, people would put them on string. But lately, there's not one child I have seen play with a conker on a string," said Mrs Francis.
"I'm not sure if they would be banned in schools because of health and safety. I don't think schools would want parents complaining if their children got hurt in a conker fight.
"I also think parents have less time to supervise their children baking conkers in ovens and then drilling holes in them - I wouldn't want mine doing that unsupervised. There's less time for old-fashioned play - particularly when children have tablets and computer games to entertain them."
In the early 2000s, a myth sprang up that the Health and Safety Executive (HSE) had banned conker fights. The HSE was even forced to put a denial on its website, describing the story as, "an old chestnut".
Some schools took to allowing their children to take part in fights provided they were wearing protective goggles - Cummersdale Primary School, in Cumbria, was one such school.
The school's current head teacher, Gareth Jones, says he would not object if children wanted to play with conkers - and the protective goggles would not be necessary - but many do not.
"It's hard to know why - they just don't seem very interested in conkers any more," he said.
One school - Cleve House in Knowle, Bristol - has sought to revive the tradition by staging conker tournaments for the past two years with a trophy for the winner.
Joint head Elaine Lawson said the idea was prompted by children bringing conkers into school and asking how to play.
"I think they had heard about conker fights at home and were keen to do something like that, so we made it into a bit of a tournament with a trophy," she said.
Mrs Lawson said it was "a pity" the school probably would not be able to leave children to play with conkers outside of a tournament, "for safety's sake".
"There has always been a risk attached to conkers, but more people seem more aware of it now," she said.
"Also, children are much less used to playing with them. Twenty years ago, children were playing conkers all the time - down the park, or on the street with their friends. Today, they don't know how to play as much."
Mrs Lawson added she had noticed today's children had fewer play skills than their predecessors - which is why it was important to keep traditional games like conkers alive.
"Games today either have to be organised, or sometimes children will copy something they have seen on TV, but they are rarely spontaneous," she said. "What we call 'old-fashioned games' is, in fact, just something children have always done for sheer pleasure."
All the more pity because the time is ripe for conkers, with more of the seeds in abundance than experts have seen for a long time.
"It has been an exceptional year," said David Knott, curator at Edinburgh's Royal Botanic Gardens.
"We had a very mild winter, while spring was excellent for pollinating insects which has led to a very good fruiting year for trees. They have also ripened marginally earlier.
"Horse chestnut trees are actually native to Northern Greece and Albania, so the conditions we have seen this year are more akin to their natural environment."
The organisers of the World Conker Championships, which are being held in Oundle, Northamptonshire, on Sunday, agreed there had been a "bumper crop".
In 2012, the Scottish Conker Championships were cancelled because of a lack of conkers.
This year however, the organisers of both competitions say conkers are bigger and better than ever.
Nicola Hunt, who judges the Scottish championships - being held in Peebles this year - says the crop is "outstanding".
"We are just out gathering them at the moment," she said. "We possibly do have less children taking part, but there is the great joy of foraging conkers - I don't think kids ever get tired of that. It's just they're not going on to play games as much as they used to."
And while children's interest may be diminishing, Mrs Hunt says their parents' love of the game is as strong as ever - in fact, it may be growing.
"In the seven years we have been running the competition, we have seen more and more adults taking part - they're just big kids," she said.
So, can she imagine conker fights continuing to grow as a niche interest but maybe led by adults, rather than children?
"Possibly," she said. "It's a really fun game that just epitomises autumn."