Cyclist creates giant bike across the New Forest using GPS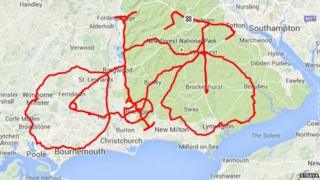 A cyclist has created a huge bike across east Dorset and the New Forest using a route mapping app.
David Taylor, 60, from Landford, near Salisbury, Wiltshire, rode the 187-mile (301km) route as part of the Tommy Godwin 205-mile (330km) challenge.
The bicycle-shaped route, created using GPS, appears on Google Maps via the Strava app and website.
He has been making map segments for about three years and created a 141-mile (227.9km) pony last year.
Mr Taylor said he spots "potential shapes" using the app when cycling and works on creating the bigger picture.
"It keeps me amused while I'm out cycling," he said.
"With the pony's head, for example, the first bit I saw was the ear and nose, and I worked on it from there."
He said the bike, which took him eight months to plan, had been his biggest challenge to date.
He said he hoped to carry out his next segment next year, but added he always keeps his plans under wraps until they are complete.