Navitus Bay wind farm could hit Bournemouth economy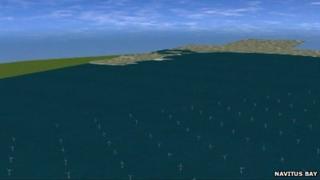 A proposed wind farm off the South Coast could damage Bournemouth's economy by £100m a year and put 2,000 jobs at risk, a new report claims.
The Navitus Bay wind farm off Dorset, Hampshire and the Isle of Wight would comprise 194 turbines up to 200m (650ft) high.
The Bournemouth Borough Council report looked at how the changed views across Poole Bay would affect tourism.
Navitus Bay said the figures were "misleading".
An estimated six million people visit the coastal town each year.
The report, submitted to the Planning Inspectorate, said many of the visitors were likely to go elsewhere after a tourism survey suggested 91% rated the views out to sea and along the coast as "four or five on a five point scale" of importance.
It said losing or damaging the view would have "dire consequences" for tourism and the wider economy in Bournemouth.
'Vast scale'
Tourism is worth an estimated £501m a year to the local economy. The report found that even a small downturn in income would tip many local businesses into the red and result in thousands of job losses.
Council leader John Beesley said: "All the evidence indicates that this wind farm will damage local businesses and lead to job losses.
"Because of this, we vehemently oppose the vast scale and location of Navitus Bay's wind farm."
Last week Christchurch borough councillors voted unanimously against the planning application by Navitus Bay.
The plans have also been opposed by the National Trust, while Unesco has said it could affect the Jurassic Coast's World Heritage status.
But Mike Unsworth, Navitus Bay project director, said: "The council have based this figure on one statistic from our tourism survey, but it is misleading to view this data in isolation and to then extrapolate in this way.
"In fact, [wind] turbines have often boosted tourism in a number of locations, including Great Yarmouth, where a dedicated visitor centre attracts tourists interested in finding out about offshore wind energy generation.
"We appreciate that some people have genuine concerns when it comes to the project, but we stand by the credibility of our planning application."
The Planning Inspectorate is expected to complete its examination of the proposals in March 2015 before a decision is made.