Could HS2's East Midlands hub be relocated to Derbyshire?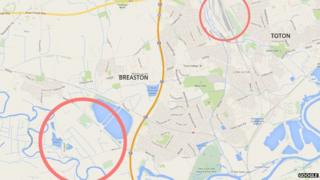 Last year, the government named Toton in Nottinghamshire as the East Midlands hub for its HS2 high-speed rail network. But in recent days, rumours have surfaced suggesting that may now be in doubt, as John Hess reports.
According to Conservative MP Anna Soubry any move from Toton - which is in her Broxtowe constituency - would be a "real blow".
Sources are telling me that the new preferred location is a few miles south-west of Toton, near Breaston in Derbyshire. The site would be just to the west of the M1 motorway.
HS2 has declined to confirm whether such a decision has already been taken. A spokesperson said a formal announcement will be made by the chairman of HS2 David Higgins later this month.
Airport tunnel
But one key factor in any change of location will be to help reduce construction costs. The current HS2 route from Birmingham to Sheffield via Toton, involves considerable tunnelling under East Midlands Airport.
Only last week, the Department for Transport announced a change to phase one of the HS2 route in the Lichfield area, after local environmental concerns.
One of the most outspoken critics of the phase two route through the East Midlands has been the MP for North West Leicestershire Andrew Bridgen. And that's because of the rising cost and the threat to a proposed rail freight depot and business park near East Midlands Airport.
The cost of Phase One from London to Birmingham has already been revised upwards. The Transport Secretary Patrick McLoughlin has repeatedly reassured parliament that HS2 construction costs will be kept below £42bn.
Construction of HS2 is due to start in 2017, with phase one completed by 2026. Phase two and the eastern leg through the East Midlands may have to wait until 2030-2033.