Wanted East Preston fraudster Peter Berry 'conned more women'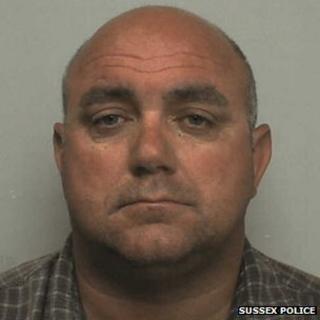 A convicted fraudster is believed to have conned more women out of tens of thousands of pounds since being released from jail.
Peter Berry, 48, moved to a flat in Sea Lane in East Preston, West Sussex, but police have been unable to find him.
He was sentenced to 63 months in jail at Truro Crown Court in May 2010 after he pleaded guilty to 19 fraud offences.
Berry was released in September 2012 and is accused of tricking a Swindon woman out of £20,000 a month later.
Berry, who also goes under the names of John Keady, Jay Smith, James Smith, Dr James Smith and Taz Keady, was released from prison early on licence.
He was recalled to serve the remainder of his jail term in November after being linked to two new fraud offences committed since he had left prison.
Kayaking world record
The fraudster persuaded a second woman from Southampton to lend him £18,000 and a woman from East Preston gave him £15,000 to invest for her, Sussex Police said.
Det Con Kev Reay said: "Berry befriends single women, often via dating sites, and lures them in to steal from them.
"He tells them extravagant lies like saying he needs money to help friends trapped in the Himalayas, that he holds a world record in kayaking and that he worked on a lifeboat and was given a bravery award.
"None of those things are true."