Judicial review for Whitsand Bay silt dumping licence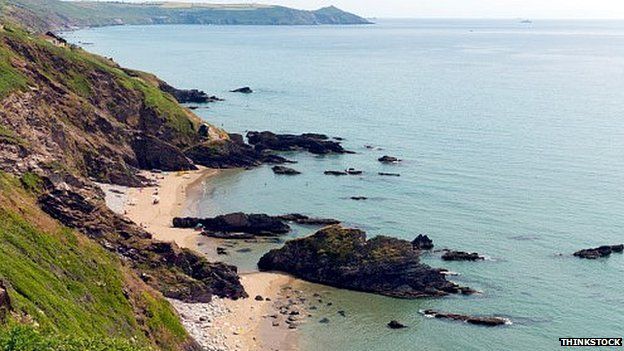 A review of the decision to issue a licence for the dredging and dumping of silt from a naval dock has been granted.
Silt is taken from the River Tamar to clear channels for warships at Devonport Dockyard in Plymouth.
Critics say the silt dumped in Whitsand Bay, Cornwall, is harming marine life.
The High Court granted permission for a judicial review relating to the Marine Management Organisation's (MMO) decision.
The judicial review relates to an application lodged by Boskalis Westminster UK for a three-year licence to deposit a maximum of 367,000 tonnes of silt, the MMO said.
Millions of tonnes of silt has been dumped off Rame Head in Whitsand Bay for more than a century.
Diver Dave Peak said it was "good news" and he hoped the licence would be revoked.
"This judicial review will not stop dumping at this moment but it will be a blow to those behind it.
"Common sense has finally come through."
Campaigner Tonny Steenhagen said: "We're finally getting heard and being taken seriously."
He said campaigners were "absolutely not against" the dredging, but the main issue was with the dumping of the silt.
Mr Steenhagen said the silt was being dumped "too close to shore" and there was also the question as to whether it was suitable to be dumped at sea at all.
In a statement the MMO said: "This is not a final determination of the claim in favour of the claimant, but means that a full hearing of the application will take place.
"The order received from the court acknowledges the need for maintenance dredging in relation to Her Majesty's Naval Base Devonport.
"As proceedings are ongoing the MMO has no further comment to make at this stage."
Related Internet Links
The BBC is not responsible for the content of external sites.